Antarctica is an icy, intriguing wonderland full of wildlife and scientific treasures, attracting researchers and intrepid travellers alike with its beautiful geography. True adventurers brave the extreme climate to discover the rich animal kingdom surrounding the white continent.
It is hard to say which of Antarctica's attractions are most memorable but the two main draws for us are the stunning scenery and wide variety of unique wildlife. You would never have guessed that ice could reflect so many different shades of blue, green and grey. Animals abound and the sea lions and king penguins on South Georgia, emperor penguins on Antarctica, and beautiful pods of orcas gliding through the icy oceans are just some of the natural wonders you could observe.
On an Antarctica Expedition you can kayak the cold crystal waters, camp overnight on the ice, scuba dive, hike the snowy terrain, stand up paddle board, take a helicopter ride and even do the polar plunge.
Did You Know…that during the winter months Antarctica experiences a Polar Night? This means the polar circle receives no direct sunshine a few months each year.
Antarctica Expeditions – The Details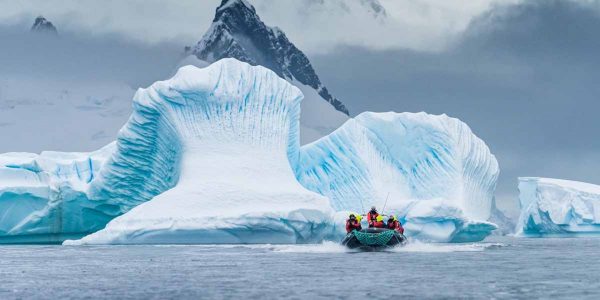 Below we have included key information to consider that will help guide you towards the right Antarctica adventure for your travel style and interests. There are additional variables to all the information below that can impact your ultimate decision so we strongly encourage you to give us a call so we can run you through all the factors you should consider. Use this page as a starting point to explore all your expedition options.
These Antarctica overview tabs explore seasonality and when to travel, which route and itinerary options are available, ship comparison factors like comfort level or included expeditions, which components most affect pricing, what is included on your expedition, FAQs and finally why to book your Antarctica adventure with Travel Just 4U.
Interactive Antarctica Map
Antarctica Experiences