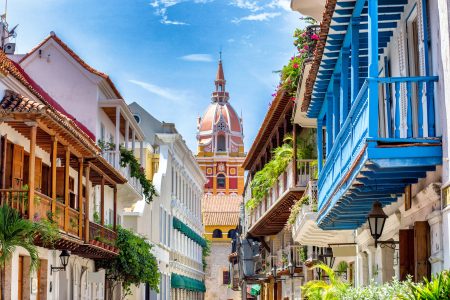 Colombia provides travellers adventures and destinations that will captivate you. From the rich colonial culture to the natural beauty, this country has become a true tourism hot spot over the last decade as it has dropped the political and social turmoil and started welcoming tourists to visit this unique mix of Caribbean and South American culture.
Colombia is well known for cities like Bogota, Medellin,  and Cartagena but it also has stunning National Parks, countless secluded beaches with tropical Caribbean water, and a unique coffee region, called the 'coffee triangle', which produces some of the world's best coffee beans.
Did You Know…that in 2011, UNESCO designated the 'Coffee Cultural Landscape of Colombia' as providing 'Outstanding Universal Value'?
Colombia Destination Highlights
Bogota
~We recommend 2-3 days to experience Bogota~
The vibrant capital 0f Colombia should be included in any itinerary to the country. From cobblestone streets in the colonial city centre to the nearby natural parks and surrounding mountains – this city has a lot to offer visitors.
Museums, graffiti tours, restaurants, bars and the Colombian people provide a fantastic introduction to the country. Some of our favourite attractions include the Gold Museum, Monserrate look out,  and the famous Andres Carne de Res. If the description of Andres sounds too wild, rest assured we can recommend many other activities or restaurants!
Cartagena de Indias
~We recommend 3-4 days to experience Cartagena~
With a population just over 1 million, this costal city on the Caribbean Ocean is an eclectic mix of old and new, beach and city, culture and fun. There is plenty to do and experience but how long you stay ultimately depends on how many days you wish to spend exploring the nearby islands or lazing on the beach.
The city was established in the mid 1500's and its colonial 'old town' city centre was named a UNESCO World Heritage site in 1984 for providing Outstanding Universal Value. We recommend staying within the walled city for the best experience and spending your days wandering through shops, visiting the nearby Rosario Islands or eating at one of the many outstanding Colombian restaurants the city offers.

Coffee Region
~We recommend 3 days in the Coffee Triangle~
The coffee region offers stunning scenery across fertile valleys, picturesque small towns, and wide open spaces. The region not only provides outstanding coffee beans, but also unique tourism activities offering a rural perspective of Colombia.
Hike around the Corcoa Valley with views of the tallest palm trees on the planet and visit local farmers to see up close how Colombian coffee is produced. This region also boasts national parks and reserves with unique bird life and nearby hot springs.
A few days in the coffee triangle can be added to any Colombia stay. See one of our flexible itineraries that features Bogota, the Amazon, and ends in the coffee region.
Medellin
~We recommend 2 days in Medellin~
Colonial Towns
National Parks & Nature Reserves
Colombia Experiences