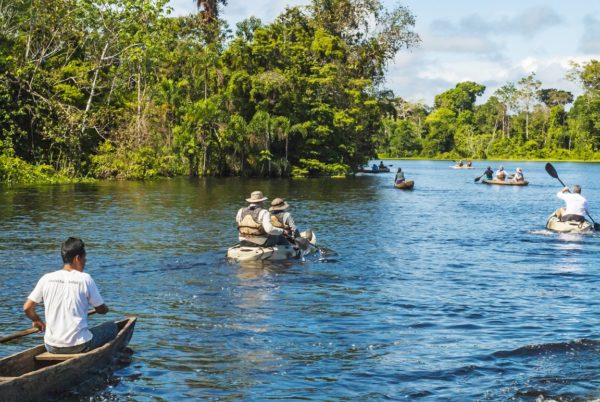 Amazon River Cruises give travellers a unique up close and personal experience on the mighty Amazon River and her tributaries with a greater comfort level than most Jungle lodges.  Cruising is more expensive but provides a more comfortable stay and allows you to explore a larger area of the jungle than you would staying at one location. Ecuador, Brazil and Peru all offer a range of itineraries and ships exploring national parks and reserves, indigenous communities and hidden corners of the Amazon.
Ecuador Amazon Cruises
Ecuador Amazon River Cruises explore the Napo River that winds through the UNESCO listed Yasuni National Park. The park is home to giant otters, pygmy marmosets, pink dolphins, red howlers, parrots, macaws, and more.
Arrival Details: From Quito, take a direct 45 min flight to Coca in the east. Connectivity to the Amazon is easy for those already in the country. 

Brazil Amazon Cruises
Brazil contains more of the Amazon Jungle than any other country, by far. The river here is much wider and stronger than in Peru or Ecuador which have smaller tributaries. Here cruises explore the main Amazon River, the Rio Negro, or both for longer itineraries. In the Anavilhanas National Park, see wildlife ranging from giant anteaters and giant armadillos to margays (also known as tree ocelots) and river dolphins. A major draw here is seeing merging of the brown Amazon and the black Rio Negro.
Arrival Details: Exploring the Amazon in Brazil requires a 4.5 hour flight from Rio or 4 hour flight from Sao Paulo to Manaus in the far north of Brazil. The flight and transit time makes exploring the Amazon in Brazil less attractive than in Peru or Ecuador. This is a great option for travellers exploring Brazil.


Peru Amazon Cruises
In Peru, cruise through the lush Pacaya Samiria National Reserve and search for manatees, pink dolphins, the white lipped, peccary, red faced spider monkey, capybara and many more reptiles, fish and birds. With so much wildlife and fantastic ship options, you can cruise from 4 to 8 days on the Amazon and its subsidiary rivers in this area of Peru.
Arrival Details: From Lima or Cuzco, take a direct 2 hour flight to Iquitos in north east Peru. Connectivity is easy for travellers already visiting Peru.
Amazon River Cruises
Choose from 3 to 8 day Amazon River Cruise itineraries listed below or to explore the range of ships available as, see our Amazon Ships page.
Sort by:
Price
|
Duration
Jul 17, 2021

4 days - 3 nights

AUD $ 1,800

per person

Jul 19, 2021

3 days - 2 nights

AUD $ 1,350

per person

Aug 14, 2021

4 days - 3 nights

AUD $ 1,800

per person

Sep 25, 2021

4 days - 3 nights

AUD $ 1,800

per person

Nov 20, 2021

4 days - 3 nights

AUD $ 1,800

per person

Jan 01, 2022

8 days - 7 nights

AUD $ 13,940

per person

Jan 01, 2022

5 days - 4 nights

AUD $ 7,970

per person

Jan 03, 2022

4 days - 3 nights

AUD $ 5,100

per person

Jan 07, 2022

8 days - 7 nights

AUD $ 11,920

per person

Jan 04, 2022

4 days - 3 nights

AUD $ 6,130

per person

Jan 08, 2022

8 days - 7 nights

AUD $ 14,300

per person

Jan 09, 2022

8 days - 7 nights

AUD $ 7,440

per person

Jan 05, 2022

4 days - 3 nights

AUD $ 3,720

per person

Jan 06, 2022

4 days - 3 nights

AUD $ 6,440

per person

Jan 07, 2022

5 days - 4 nights

AUD $ 6,980

per person

Jan 07, 2022

5 days - 4 nights

AUD $ 3,740

per person

Jan 10, 2022

8 days - 7 nights

AUD $ 5,990

per person

Jan 08, 2022

5 days - 4 nights

AUD $ 5,650

per person

Jan 08, 2022

5 days - 4 nights

AUD $ 8,170

per person

Jan 09, 2022

5 days - 4 nights

AUD $ 6,660

per person

Jan 09, 2022

5 days - 4 nights

AUD $ 4,650

per person

Jan 12, 2022

8 days - 7 nights

AUD $ 7,440

per person

Jan 10, 2022

5 days - 4 nights

AUD $ 8,260

per person

Jan 10, 2022

4 days - 3 nights

AUD $ 5,230

per person

Jan 14, 2022

8 days - 7 nights

AUD $ 12,220

per person

Jan 14, 2022

8 days - 7 nights

AUD $ 5,990

per person

Jan 10, 2022

4 days - 3 nights

AUD $ 3,000

per person

Jan 11, 2022

4 days - 3 nights

AUD $ 6,130

per person

Jan 15, 2022

8 days - 7 nights

AUD $ 14,300

per person

Jan 15, 2022

8 days - 7 nights

AUD $ 11,590

per person

Jan 12, 2022

5 days - 4 nights

AUD $ 6,620

per person

Jan 12, 2022

4 days - 3 nights

AUD $ 5,000

per person

Jan 16, 2022

7 days - 6 nights

AUD $ 4,270

per person

Jan 12, 2022

4 days - 3 nights

AUD $ 2,580

per person

Jan 16, 2022

8 days - 7 nights

AUD $ 7,440

per person

Jan 12, 2022

4 days - 3 nights

AUD $ 3,720

per person

Jan 13, 2022

4 days - 3 nights

AUD $ 6,440

per person

Jan 14, 2022

5 days - 4 nights

AUD $ 6,980

per person

Jan 14, 2022

5 days - 4 nights

AUD $ 3,740

per person

Jan 17, 2022

8 days - 7 nights

AUD $ 5,990

per person

Jan 15, 2022

5 days - 4 nights

AUD $ 8,170

per person

Jan 16, 2022

5 days - 4 nights

AUD $ 6,660

per person

Jan 16, 2022

4 days - 3 nights

AUD $ 2,580

per person

Jan 16, 2022

5 days - 4 nights

AUD $ 4,650

per person

Jan 19, 2022

8 days - 7 nights

AUD $ 7,440

per person

Jan 17, 2022

5 days - 4 nights

AUD $ 8,260

per person

Jan 17, 2022

4 days - 3 nights

AUD $ 5,230

per person

Jan 21, 2022

8 days - 7 nights

AUD $ 12,220

per person

Jan 21, 2022

8 days - 7 nights

AUD $ 5,990

per person

Jan 17, 2022

4 days - 3 nights

AUD $ 3,000

per person

Jan 18, 2022

4 days - 3 nights

AUD $ 6,130

per person

Jan 22, 2022

8 days - 7 nights

AUD $ 14,300

per person

Jan 23, 2022

7 days - 6 nights

AUD $ 4,270

per person

Jan 23, 2022

8 days - 7 nights

AUD $ 7,440

per person

Jan 19, 2022

4 days - 3 nights

AUD $ 3,720

per person

Jan 20, 2022

4 days - 3 nights

AUD $ 6,440

per person

Jan 21, 2022

5 days - 4 nights

AUD $ 6,980

per person

Jan 21, 2022

5 days - 4 nights

AUD $ 3,740

per person

Jan 24, 2022

8 days - 7 nights

AUD $ 5,990

per person

Jan 22, 2022

5 days - 4 nights

AUD $ 5,650

per person

Jan 22, 2022

5 days - 4 nights

AUD $ 8,170

per person

Jan 23, 2022

4 days - 3 nights

AUD $ 2,580

per person

Jan 23, 2022

5 days - 4 nights

AUD $ 4,650

per person

Jan 26, 2022

8 days - 7 nights

AUD $ 7,440

per person

Jan 24, 2022

5 days - 4 nights

AUD $ 8,260

per person

Jan 28, 2022

8 days - 7 nights

AUD $ 5,990

per person

Jan 24, 2022

4 days - 3 nights

AUD $ 3,000

per person

Jan 25, 2022

4 days - 3 nights

AUD $ 4,340

per person

Jan 25, 2022

4 days - 3 nights

AUD $ 6,130

per person

Jan 29, 2022

8 days - 7 nights

AUD $ 14,300

per person

Jan 26, 2022

4 days - 3 nights

AUD $ 2,580

per person

Jan 30, 2022

8 days - 7 nights

AUD $ 7,440

per person

Jan 26, 2022

4 days - 3 nights

AUD $ 3,720

per person

Jan 27, 2022

4 days - 3 nights

AUD $ 6,440

per person

Jan 28, 2022

5 days - 4 nights

AUD $ 3,740

per person

Jan 31, 2022

8 days - 7 nights

AUD $ 5,990

per person

Jan 29, 2022

5 days - 4 nights

AUD $ 5,650

per person

Jan 29, 2022

5 days - 4 nights

AUD $ 8,170

per person

Jan 30, 2022

5 days - 4 nights

AUD $ 4,650

per person

Feb 02, 2022

8 days - 7 nights

AUD $ 7,440

per person

Jan 31, 2022

5 days - 4 nights

AUD $ 8,260

per person

Jan 31, 2022

4 days - 3 nights

AUD $ 5,230

per person

Feb 04, 2022

8 days - 7 nights

AUD $ 12,220

per person

Feb 04, 2022

8 days - 7 nights

AUD $ 5,990

per person

Jan 31, 2022

4 days - 3 nights

AUD $ 3,000

per person

Feb 01, 2022

4 days - 3 nights

AUD $ 4,340

per person

Feb 01, 2022

4 days - 3 nights

AUD $ 6,130

per person

Feb 05, 2022

8 days - 7 nights

AUD $ 14,300

per person

Feb 06, 2022

7 days - 6 nights

AUD $ 4,270

per person

Feb 02, 2022

4 days - 3 nights

AUD $ 2,580

per person

Feb 06, 2022

8 days - 7 nights

AUD $ 7,440

per person

Feb 02, 2022

4 days - 3 nights

AUD $ 3,720

per person

Feb 03, 2022

4 days - 3 nights

AUD $ 6,440

per person

Feb 04, 2022

5 days - 4 nights

AUD $ 6,980

per person

Feb 04, 2022

5 days - 4 nights

AUD $ 3,740

per person

Feb 07, 2022

8 days - 7 nights

AUD $ 5,990

per person

Feb 05, 2022

5 days - 4 nights

AUD $ 5,650

per person

Feb 05, 2022

5 days - 4 nights

AUD $ 8,170

per person

Feb 06, 2022

4 days - 3 nights

AUD $ 2,580

per person

Feb 06, 2022

5 days - 4 nights

AUD $ 4,650

per person

Feb 09, 2022

8 days - 7 nights

AUD $ 7,440

per person

Feb 07, 2022

5 days - 4 nights

AUD $ 8,260

per person

Feb 11, 2022

8 days - 7 nights

AUD $ 5,990

per person

Feb 07, 2022

4 days - 3 nights

AUD $ 3,000

per person

Feb 08, 2022

4 days - 3 nights

AUD $ 4,340

per person

Feb 08, 2022

4 days - 3 nights

AUD $ 6,130

per person

Feb 12, 2022

8 days - 7 nights

AUD $ 14,300

per person

Feb 09, 2022

4 days - 3 nights

AUD $ 5,000

per person

Feb 13, 2022

7 days - 6 nights

AUD $ 4,270

per person

Feb 09, 2022

4 days - 3 nights

AUD $ 2,580

per person

Feb 13, 2022

8 days - 7 nights

AUD $ 7,440

per person

Feb 09, 2022

4 days - 3 nights

AUD $ 3,720

per person

Feb 10, 2022

4 days - 3 nights

AUD $ 6,440

per person

Feb 11, 2022

5 days - 4 nights

AUD $ 3,740

per person

Feb 14, 2022

8 days - 7 nights

AUD $ 5,990

per person

Feb 12, 2022

5 days - 4 nights

AUD $ 5,650

per person

Feb 12, 2022

5 days - 4 nights

AUD $ 8,170

per person

Feb 13, 2022

5 days - 4 nights

AUD $ 6,660

per person

Feb 13, 2022

4 days - 3 nights

AUD $ 2,580

per person

Feb 13, 2022

5 days - 4 nights

AUD $ 4,650

per person

Feb 16, 2022

8 days - 7 nights

AUD $ 7,440

per person

Feb 14, 2022

5 days - 4 nights

AUD $ 8,260

per person

Feb 18, 2022

8 days - 7 nights

AUD $ 5,990

per person

Feb 14, 2022

4 days - 3 nights

AUD $ 3,000

per person

Feb 15, 2022

4 days - 3 nights

AUD $ 4,340

per person

Feb 15, 2022

4 days - 3 nights

AUD $ 6,130

per person

Feb 19, 2022

8 days - 7 nights

AUD $ 14,300

per person

Feb 20, 2022

7 days - 6 nights

AUD $ 4,270

per person

Feb 20, 2022

8 days - 7 nights

AUD $ 7,440

per person

Feb 16, 2022

4 days - 3 nights

AUD $ 3,720

per person

Feb 17, 2022

4 days - 3 nights

AUD $ 6,440

per person

Feb 18, 2022

5 days - 4 nights

AUD $ 3,740

per person

Feb 21, 2022

8 days - 7 nights

AUD $ 5,990

per person

Feb 19, 2022

5 days - 4 nights

AUD $ 5,650

per person

Feb 19, 2022

5 days - 4 nights

AUD $ 8,170

per person

Feb 20, 2022

4 days - 3 nights

AUD $ 2,580

per person

Feb 20, 2022

5 days - 4 nights

AUD $ 4,650

per person

Feb 23, 2022

8 days - 7 nights

AUD $ 7,440

per person

Feb 21, 2022

5 days - 4 nights

AUD $ 8,260

per person

Feb 25, 2022

8 days - 7 nights

AUD $ 5,990

per person

Feb 21, 2022

4 days - 3 nights

AUD $ 3,000

per person

Feb 22, 2022

4 days - 3 nights

AUD $ 4,340

per person

Feb 22, 2022

4 days - 3 nights

AUD $ 6,130

per person

Feb 26, 2022

8 days - 7 nights

AUD $ 14,300

per person

Feb 27, 2022

7 days - 6 nights

AUD $ 4,270

per person

Feb 23, 2022

4 days - 3 nights

AUD $ 2,580

per person

Feb 27, 2022

8 days - 7 nights

AUD $ 7,440

per person

Feb 23, 2022

4 days - 3 nights

AUD $ 3,720

per person

Feb 24, 2022

4 days - 3 nights

AUD $ 6,440

per person

Feb 25, 2022

5 days - 4 nights

AUD $ 3,740

per person

Feb 28, 2022

8 days - 7 nights

AUD $ 5,990

per person

Feb 26, 2022

5 days - 4 nights

AUD $ 5,650

per person

Feb 26, 2022

5 days - 4 nights

AUD $ 8,170

per person

Feb 27, 2022

5 days - 4 nights

AUD $ 4,650

per person

Mar 02, 2022

8 days - 7 nights

AUD $ 7,440

per person

Feb 28, 2022

5 days - 4 nights

AUD $ 8,260

per person

Mar 04, 2022

8 days - 7 nights

AUD $ 5,990

per person

Feb 28, 2022

4 days - 3 nights

AUD $ 3,000

per person

Mar 01, 2022

4 days - 3 nights

AUD $ 4,340

per person

Mar 01, 2022

4 days - 3 nights

AUD $ 6,130

per person

Mar 05, 2022

8 days - 7 nights

AUD $ 14,300

per person

Mar 06, 2022

7 days - 6 nights

AUD $ 4,270

per person

Mar 02, 2022

4 days - 3 nights

AUD $ 2,580

per person

Mar 06, 2022

8 days - 7 nights

AUD $ 7,440

per person

Mar 02, 2022

4 days - 3 nights

AUD $ 3,720

per person

Mar 03, 2022

4 days - 3 nights

AUD $ 6,440

per person

Mar 04, 2022

5 days - 4 nights

AUD $ 3,740

per person

Mar 07, 2022

8 days - 7 nights

AUD $ 5,990

per person

Mar 05, 2022

5 days - 4 nights

AUD $ 5,650

per person

Mar 05, 2022

5 days - 4 nights

AUD $ 8,170

per person

Mar 05, 2022

4 days - 3 nights

AUD $ 2,580

per person

Mar 06, 2022

5 days - 4 nights

AUD $ 4,650

per person

Mar 09, 2022

8 days - 7 nights

AUD $ 7,440

per person

Mar 07, 2022

5 days - 4 nights

AUD $ 8,260

per person

Mar 07, 2022

4 days - 3 nights

AUD $ 5,230

per person

Mar 11, 2022

8 days - 7 nights

AUD $ 12,220

per person

Mar 11, 2022

8 days - 7 nights

AUD $ 5,990

per person

Mar 07, 2022

4 days - 3 nights

AUD $ 3,000

per person

Mar 08, 2022

4 days - 3 nights

AUD $ 4,340

per person

Mar 08, 2022

4 days - 3 nights

AUD $ 6,130

per person

Mar 12, 2022

8 days - 7 nights

AUD $ 14,300

per person

Mar 09, 2022

4 days - 3 nights

AUD $ 5,000

per person

Mar 13, 2022

8 days - 7 nights

AUD $ 7,440

per person

Mar 09, 2022

4 days - 3 nights

AUD $ 3,720

per person

Mar 10, 2022

4 days - 3 nights

AUD $ 6,440

per person

Mar 11, 2022

5 days - 4 nights

AUD $ 6,980

per person

Mar 11, 2022

5 days - 4 nights

AUD $ 3,740

per person

Mar 14, 2022

8 days - 7 nights

AUD $ 5,990

per person

Mar 12, 2022

5 days - 4 nights

AUD $ 5,650

per person

Mar 12, 2022

5 days - 4 nights

AUD $ 8,170

per person

Mar 13, 2022

5 days - 4 nights

AUD $ 6,660

per person

Mar 13, 2022

5 days - 4 nights

AUD $ 4,650

per person

Mar 16, 2022

8 days - 7 nights

AUD $ 7,440

per person

Mar 14, 2022

5 days - 4 nights

AUD $ 8,260

per person

Mar 18, 2022

8 days - 7 nights

AUD $ 5,990

per person

Mar 14, 2022

4 days - 3 nights

AUD $ 3,000

per person

Mar 15, 2022

4 days - 3 nights

AUD $ 4,340

per person

Mar 15, 2022

4 days - 3 nights

AUD $ 6,130

per person

Mar 19, 2022

8 days - 7 nights

AUD $ 14,300

per person

Mar 16, 2022

4 days - 3 nights

AUD $ 5,000

per person

Mar 27, 2022

7 days - 6 nights

AUD $ 4,270

per person

Mar 16, 2022

4 days - 3 nights

AUD $ 2,580

per person

Mar 20, 2022

8 days - 7 nights

AUD $ 7,440

per person

Mar 16, 2022

4 days - 3 nights

AUD $ 3,720

per person

Mar 17, 2022

4 days - 3 nights

AUD $ 6,440

per person

Mar 18, 2022

5 days - 4 nights

AUD $ 3,740

per person

Mar 21, 2022

8 days - 7 nights

AUD $ 5,990

per person

Mar 19, 2022

5 days - 4 nights

AUD $ 5,650

per person

Mar 19, 2022

5 days - 4 nights

AUD $ 8,170

per person

Mar 20, 2022

5 days - 4 nights

AUD $ 6,660

per person

Mar 19, 2022

4 days - 3 nights

AUD $ 2,580

per person

Mar 20, 2022

5 days - 4 nights

AUD $ 4,650

per person

Mar 23, 2022

8 days - 7 nights

AUD $ 7,440

per person

Mar 21, 2022

5 days - 4 nights

AUD $ 8,260

per person

Mar 21, 2022

4 days - 3 nights

AUD $ 5,230

per person

Mar 25, 2022

8 days - 7 nights

AUD $ 12,220

per person

Mar 25, 2022

8 days - 7 nights

AUD $ 5,990

per person

Mar 21, 2022

4 days - 3 nights

AUD $ 3,000

per person

Mar 22, 2022

4 days - 3 nights

AUD $ 4,340

per person

Mar 22, 2022

4 days - 3 nights

AUD $ 6,130

per person

Mar 26, 2022

8 days - 7 nights

AUD $ 14,300

per person

Mar 27, 2022

8 days - 7 nights

AUD $ 7,440

per person

Mar 23, 2022

4 days - 3 nights

AUD $ 3,720

per person

Mar 24, 2022

4 days - 3 nights

AUD $ 6,440

per person

Mar 25, 2022

5 days - 4 nights

AUD $ 6,980

per person

Mar 25, 2022

5 days - 4 nights

AUD $ 3,740

per person

Mar 28, 2022

8 days - 7 nights

AUD $ 5,990

per person

Mar 26, 2022

5 days - 4 nights

AUD $ 5,650

per person

Mar 26, 2022

5 days - 4 nights

AUD $ 8,170

per person

Mar 27, 2022

5 days - 4 nights

AUD $ 4,650

per person

Mar 30, 2022

8 days - 7 nights

AUD $ 7,440

per person

Mar 28, 2022

5 days - 4 nights

AUD $ 8,260

per person

Mar 28, 2022

4 days - 3 nights

AUD $ 5,230

per person

Apr 01, 2022

8 days - 7 nights

AUD $ 12,220

per person

Apr 01, 2022

8 days - 7 nights

AUD $ 5,990

per person

Mar 28, 2022

4 days - 3 nights

AUD $ 3,000

per person

Mar 29, 2022

4 days - 3 nights

AUD $ 4,340

per person

Mar 29, 2022

4 days - 3 nights

AUD $ 6,130

per person

Apr 02, 2022

8 days - 7 nights

AUD $ 14,300

per person

Apr 02, 2022

8 days - 7 nights

AUD $ 11,590

per person

Mar 30, 2022

5 days - 4 nights

AUD $ 6,620

per person

Mar 30, 2022

4 days - 3 nights

AUD $ 2,580

per person

Apr 03, 2022

8 days - 7 nights

AUD $ 7,440

per person

Mar 30, 2022

4 days - 3 nights

AUD $ 3,720

per person

Mar 31, 2022

4 days - 3 nights

AUD $ 6,440

per person

Apr 01, 2022

5 days - 4 nights

AUD $ 6,980

per person

Apr 01, 2022

5 days - 4 nights

AUD $ 3,740

per person

Apr 04, 2022

8 days - 7 nights

AUD $ 5,990

per person

Apr 02, 2022

5 days - 4 nights

AUD $ 5,650

per person

Apr 02, 2022

5 days - 4 nights

AUD $ 8,170

per person

Apr 03, 2022

4 days - 3 nights

AUD $ 2,580

per person

Apr 02, 2022

4 days - 3 nights

AUD $ 5,120

per person

Apr 03, 2022

5 days - 4 nights

AUD $ 4,650

per person

Apr 06, 2022

8 days - 7 nights

AUD $ 7,440

per person

Apr 04, 2022

5 days - 4 nights

AUD $ 8,260

per person

Apr 04, 2022

4 days - 3 nights

AUD $ 5,230

per person

Apr 08, 2022

8 days - 7 nights

AUD $ 12,220

per person

Apr 04, 2022

4 days - 3 nights

AUD $ 3,000

per person

Apr 08, 2022

8 days - 7 nights

AUD $ 5,990

per person

Apr 05, 2022

4 days - 3 nights

AUD $ 4,340

per person

Apr 05, 2022

4 days - 3 nights

AUD $ 6,130

per person

Apr 09, 2022

8 days - 7 nights

AUD $ 14,300

per person

Apr 10, 2022

7 days - 6 nights

AUD $ 4,270

per person

Apr 06, 2022

4 days - 3 nights

AUD $ 2,580

per person

Apr 10, 2022

8 days - 7 nights

AUD $ 7,440

per person

Apr 06, 2022

4 days - 3 nights

AUD $ 3,720

per person

Apr 07, 2022

4 days - 3 nights

AUD $ 6,440

per person

Apr 08, 2022

5 days - 4 nights

AUD $ 6,980

per person

Apr 08, 2022

5 days - 4 nights

AUD $ 3,740

per person

Apr 11, 2022

8 days - 7 nights

AUD $ 5,990

per person

Apr 09, 2022

5 days - 4 nights

AUD $ 8,170

per person

Apr 10, 2022

5 days - 4 nights

AUD $ 4,650

per person

Apr 13, 2022

8 days - 7 nights

AUD $ 7,440

per person

Apr 11, 2022

5 days - 4 nights

AUD $ 8,260

per person

Apr 11, 2022

4 days - 3 nights

AUD $ 5,230

per person

Apr 15, 2022

8 days - 7 nights

AUD $ 12,220

per person

Apr 11, 2022

4 days - 3 nights

AUD $ 3,000

per person

Apr 15, 2022

8 days - 7 nights

AUD $ 5,990

per person

Apr 12, 2022

4 days - 3 nights

AUD $ 4,340

per person

Apr 12, 2022

4 days - 3 nights

AUD $ 6,130

per person

Apr 16, 2022

8 days - 7 nights

AUD $ 14,300

per person

Apr 16, 2022

8 days - 7 nights

AUD $ 11,590

per person

Apr 13, 2022

5 days - 4 nights

AUD $ 6,620

per person

Apr 13, 2022

5 days - 4 nights

AUD $ 6,620

per person

Apr 17, 2022

7 days - 6 nights

AUD $ 4,270

per person

Apr 13, 2022

4 days - 3 nights

AUD $ 2,580

per person

Apr 17, 2022

8 days - 7 nights

AUD $ 7,440

per person

Apr 13, 2022

4 days - 3 nights

AUD $ 3,720

per person

Apr 14, 2022

4 days - 3 nights

AUD $ 6,440

per person

Apr 15, 2022

5 days - 4 nights

AUD $ 6,980

per person

Apr 15, 2022

5 days - 4 nights

AUD $ 3,740

per person

Apr 18, 2022

8 days - 7 nights

AUD $ 5,990

per person

Apr 16, 2022

5 days - 4 nights

AUD $ 5,650

per person

Apr 16, 2022

5 days - 4 nights

AUD $ 8,170

per person

Apr 17, 2022

4 days - 3 nights

AUD $ 2,580

per person

Apr 16, 2022

4 days - 3 nights

AUD $ 5,120

per person

Apr 17, 2022

5 days - 4 nights

AUD $ 4,650

per person

Apr 20, 2022

8 days - 7 nights

AUD $ 7,440

per person

Apr 18, 2022

5 days - 4 nights

AUD $ 8,260

per person

Apr 18, 2022

4 days - 3 nights

AUD $ 5,230

per person

Apr 22, 2022

8 days - 7 nights

AUD $ 12,220

per person

Apr 18, 2022

4 days - 3 nights

AUD $ 3,000

per person

Apr 22, 2022

8 days - 7 nights

AUD $ 5,990

per person

Apr 19, 2022

4 days - 3 nights

AUD $ 4,340

per person

Apr 19, 2022

4 days - 3 nights

AUD $ 6,130

per person

Apr 23, 2022

8 days - 7 nights

AUD $ 14,300

per person

Apr 23, 2022

8 days - 7 nights

AUD $ 11,590

per person

Apr 20, 2022

5 days - 4 nights

AUD $ 6,620

per person

Apr 20, 2022

4 days - 3 nights

AUD $ 5,000

per person

Apr 24, 2022

7 days - 6 nights

AUD $ 4,270

per person

Apr 24, 2022

8 days - 7 nights

AUD $ 7,440

per person

Apr 20, 2022

4 days - 3 nights

AUD $ 3,720

per person

Apr 21, 2022

4 days - 3 nights

AUD $ 6,440

per person

Apr 22, 2022

5 days - 4 nights

AUD $ 6,980

per person

Apr 22, 2022

5 days - 4 nights

AUD $ 3,740

per person

Apr 25, 2022

8 days - 7 nights

AUD $ 5,990

per person

Apr 23, 2022

5 days - 4 nights

AUD $ 8,170

per person

Apr 24, 2022

4 days - 3 nights

AUD $ 2,580

per person

Apr 23, 2022

4 days - 3 nights

AUD $ 5,120

per person

Apr 24, 2022

5 days - 4 nights

AUD $ 6,660

per person

Apr 24, 2022

5 days - 4 nights

AUD $ 4,650

per person

Apr 27, 2022

8 days - 7 nights

AUD $ 7,440

per person

Apr 25, 2022

5 days - 4 nights

AUD $ 8,260

per person

Apr 25, 2022

4 days - 3 nights

AUD $ 5,230

per person

Apr 29, 2022

8 days - 7 nights

AUD $ 12,220

per person

Apr 25, 2022

4 days - 3 nights

AUD $ 3,000

per person

Apr 29, 2022

8 days - 7 nights

AUD $ 5,990

per person

Apr 26, 2022

4 days - 3 nights

AUD $ 4,340

per person

Apr 26, 2022

4 days - 3 nights

AUD $ 6,130

per person

Apr 30, 2022

8 days - 7 nights

AUD $ 14,300

per person

Apr 30, 2022

8 days - 7 nights

AUD $ 11,590

per person

Apr 27, 2022

5 days - 4 nights

AUD $ 6,620

per person