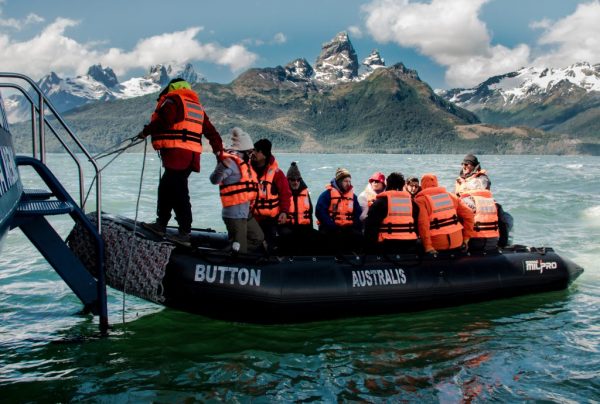 Patagonia Cruises explore the southernmost area of South America, floating through the icy fjords in search of adventure, wildlife and some of the most pristine scenery in all of Latin America.
These cruise itineraries are fantastic options to add on to land based programs in Patagonia or other areas of South America and are well suited to travellers on a tighter timeline that cannot include a longer Antarctica Expedition on their trip.
Leaving your port of embarkation behind (either Ushuaia or Punta Arenas), your Patagonia Cruise will visit fabled spots like Cape Horn, Wulaia Bay, and the Beagle Channel. Travel through the maze of islands, visit glaciers, the frozen giants that guard the southern flank of Tierra del Fuego, and cruise down the legendary Strait of Magellan. If you choose the Ushuaia to Punta Arenas route, the itinerary also stops at Isla Magdalena with a Patagonia penguin colony. Discover the wild beauty of Patagonia on a cruise that showcases the uttermost edge of the world.
Patagonia Cruise Experiences
Choose from our dedicated Patagonia or combined Antarctica & Patagonia itineraries below, or explore our range of Patagonia Fjord Ships.
Sort by:
Price
|
Duration
Sep 29, 2021

5 days - 4 nights

AUD $ 2,300

per person

Oct 03, 2021

5 days - 4 nights

AUD $ 2,300

per person

Oct 07, 2021

5 days - 4 nights

AUD $ 2,880

per person

Oct 11, 2021

5 days - 4 nights

AUD $ 2,880

per person

Oct 15, 2021

5 days - 4 nights

AUD $ 2,880

per person

Oct 19, 2021

5 days - 4 nights

AUD $ 2,880

per person

Oct 23, 2021

5 days - 4 nights

AUD $ 2,880

per person

Oct 27, 2021

5 days - 4 nights

AUD $ 2,880

per person

Oct 27, 2021

5 days - 4 nights

AUD $ 2,880

per person

Oct 31, 2021

5 days - 4 nights

AUD $ 2,880

per person

Oct 31, 2021

5 days - 4 nights

AUD $ 2,880

per person

Nov 04, 2021

5 days - 4 nights

AUD $ 2,880

per person

Nov 04, 2021

5 days - 4 nights

AUD $ 2,880

per person

Nov 08, 2021

5 days - 4 nights

AUD $ 3,750

per person

Nov 08, 2021

5 days - 4 nights

AUD $ 3,750

per person

Nov 12, 2021

5 days - 4 nights

AUD $ 3,750

per person

Nov 12, 2021

5 days - 4 nights

AUD $ 3,750

per person

Nov 16, 2021

5 days - 4 nights

AUD $ 3,750

per person

Nov 16, 2021

5 days - 4 nights

AUD $ 3,750

per person

Nov 20, 2021

5 days - 4 nights

AUD $ 3,750

per person

Nov 20, 2021

5 days - 4 nights

AUD $ 3,750

per person

Nov 24, 2021

5 days - 4 nights

AUD $ 3,750

per person

Nov 28, 2021

5 days - 4 nights

AUD $ 3,750

per person

Nov 28, 2021

5 days - 4 nights

AUD $ 3,750

per person

Dec 02, 2021

5 days - 4 nights

AUD $ 3,750

per person

Dec 02, 2021

5 days - 4 nights

AUD $ 3,750

per person

Dec 06, 2021

5 days - 4 nights

AUD $ 3,750

per person

Dec 06, 2021

5 days - 4 nights

AUD $ 3,750

per person

Dec 10, 2021

5 days - 4 nights

AUD $ 3,750

per person

Dec 10, 2021

5 days - 4 nights

AUD $ 3,750

per person

Dec 14, 2021

5 days - 4 nights

AUD $ 3,750

per person

Dec 14, 2021

5 days - 4 nights

AUD $ 3,750

per person

Dec 18, 2021

5 days - 4 nights

AUD $ 3,750

per person

Dec 19, 2021

5 days - 4 nights

AUD $ 3,750

per person

Dec 22, 2021

5 days - 4 nights

AUD $ 3,750

per person

Dec 22, 2021

5 days - 4 nights

AUD $ 3,750

per person

Dec 26, 2021

5 days - 4 nights

AUD $ 3,750

per person

Dec 26, 2021

5 days - 4 nights

AUD $ 3,750

per person

Dec 30, 2021

5 days - 4 nights

AUD $ 3,750

per person

Dec 30, 2021

5 days - 4 nights

AUD $ 3,750

per person

Jan 03, 2022

5 days - 4 nights

AUD $ 3,750

per person

Jan 03, 2022

5 days - 4 nights

AUD $ 3,750

per person

Jan 07, 2022

5 days - 4 nights

AUD $ 3,750

per person

Jan 07, 2022

5 days - 4 nights

AUD $ 3,750

per person

Jan 11, 2022

5 days - 4 nights

AUD $ 3,750

per person

Jan 11, 2022

5 days - 4 nights

AUD $ 3,750

per person

Jan 15, 2022

5 days - 4 nights

AUD $ 3,750

per person

Jan 15, 2022

5 days - 4 nights

AUD $ 3,750

per person

Jan 19, 2022

5 days - 4 nights

AUD $ 3,750

per person

Jan 19, 2022

5 days - 4 nights

AUD $ 3,750

per person

Jan 23, 2022

5 days - 4 nights

AUD $ 3,750

per person

Jan 23, 2022

5 days - 4 nights

AUD $ 3,750

per person

Jan 27, 2022

5 days - 4 nights

AUD $ 3,750

per person

Jan 27, 2022

5 days - 4 nights

AUD $ 3,750

per person

Jan 31, 2022

5 days - 4 nights

AUD $ 3,750

per person

Jan 31, 2022

5 days - 4 nights

AUD $ 3,750

per person

Feb 04, 2022

5 days - 4 nights

AUD $ 3,750

per person

Feb 04, 2022

5 days - 4 nights

AUD $ 3,750

per person

Feb 08, 2022

5 days - 4 nights

AUD $ 3,750

per person

Feb 08, 2022

5 days - 4 nights

AUD $ 3,750

per person

Feb 12, 2022

5 days - 4 nights

AUD $ 3,750

per person

Feb 12, 2022

5 days - 4 nights

AUD $ 3,750

per person

Feb 16, 2022

5 days - 4 nights

AUD $ 3,750

per person

Feb 16, 2022

5 days - 4 nights

AUD $ 3,750

per person

Feb 20, 2022

5 days - 4 nights

AUD $ 3,750

per person

Feb 20, 2022

5 days - 4 nights

AUD $ 3,750

per person

Feb 24, 2022

5 days - 4 nights

AUD $ 3,750

per person

Feb 24, 2022

5 days - 4 nights

AUD $ 3,750

per person

Feb 28, 2022

5 days - 4 nights

AUD $ 3,750

per person

Feb 28, 2022

5 days - 4 nights

AUD $ 3,750

per person

Mar 04, 2022

5 days - 4 nights

AUD $ 3,750

per person

Mar 04, 2022

5 days - 4 nights

AUD $ 3,750

per person

Mar 08, 2022

5 days - 4 nights

AUD $ 3,750

per person

Mar 08, 2022

5 days - 4 nights

AUD $ 3,750

per person

Mar 12, 2022

5 days - 4 nights

AUD $ 3,750

per person

Mar 12, 2022

5 days - 4 nights

AUD $ 3,750

per person

Mar 16, 2022

5 days - 4 nights

AUD $ 3,750

per person

Mar 16, 2022

5 days - 4 nights

AUD $ 3,750

per person

Mar 20, 2022

5 days - 4 nights

AUD $ 3,750

per person

Mar 20, 2022

5 days - 4 nights

AUD $ 3,750

per person

Mar 24, 2022

5 days - 4 nights

AUD $ 2,880

per person

Mar 24, 2022

5 days - 4 nights

AUD $ 2,880

per person

Mar 28, 2022

5 days - 4 nights

AUD $ 2,880

per person

Mar 28, 2022

5 days - 4 nights

AUD $ 2,880

per person

Apr 01, 2022

5 days - 4 nights

AUD $ 2,880

per person

Apr 01, 2022

5 days - 4 nights

AUD $ 2,880

per person

Apr 05, 2022

5 days - 4 nights

AUD $ 2,880

per person

Apr 09, 2022

5 days - 4 nights

AUD $ 2,300

per person

Apr 13, 2022

5 days - 4 nights

AUD $ 2,300

per person