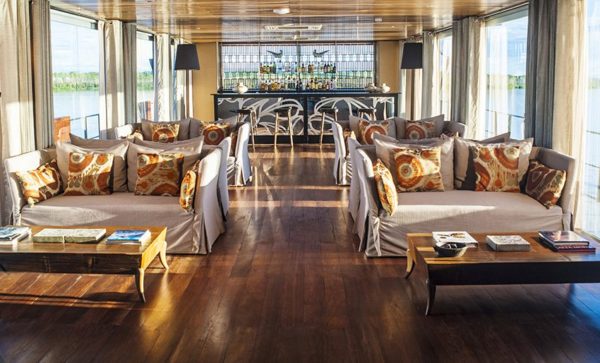 Aqua Expeditions 5 Day Cruise allows guests to explore the Pacaya Samiria National Reserve in the Peruvian Amazon aboard luxury vessels – the Aqua Nera or the Aria Amazon. For travellers with more time, consider consider the longer Aqua Expeditions 8 Day Cruise which explores all of the best destinations in the reserve.
Cruising the Amazon river and rainforest ecosystem is like seeing a giant living and breathing creature. The significant ebbing and flooding of the Amazon River and its tributaries between seasons replenish the waters with vital nutrient.
There are two key seasons in the Peruvian Amazon: a low water season that lasts from June to October and a high water season from November to May. Cruising in either season presents explorers with a unique experiences of the Amazon and no matter what season you choose, the Amazon will most definitely leave an impression!
This 5 Day Amazon Explorer Cruise manages to fit major highlights of the Peruvian Amazon and the Pacaya Samiria National Reserve in an action-packed itinerary. Go piranha fishing, trek into the dense jungle with our experienced guides in search of wildlife such as Amazon monkeys, three-toed sloths, hoatzins, toucans, macaws and unravel the mystery of giant water lilies. Journeys focus on the Ucayali tributary, where wildlife feeding and nesting grounds are aplenty.
You'll have the opportunity to view taricaya turtles and spectacled caimans in their natural habitat, along with Amazon's famous pink river dolphins whose love of frolicking in the river will delight the young and old. You'll also have enough time to find your favourite spot on the spacious five-star Aria Amazon or Aqua Nera, where you'll sample a wide range of Amazonian produce from chef Pedro Miguel Schiaffino's inventive and delicious onboard menu.
TJ4U Notes: Aqua Expeditions has two boats and a range of itineraries. This Aqua Expeditions 5 Day Cruise option can be done on their brand new Aqua Nera or the Aria Amazon. These are comparable to the Delfin I and while larger, Aqua Expeditions has the most luxurious options for travellers looking to explore the Amazon on a small boat. Review our Amazon Jungle page for full details on seasonality, routes, experience comparisons and how Travel Just 4U can help make your Amazon dream become reality.