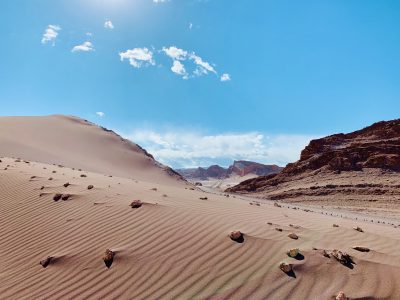 This Atacama Desert 4 Day Adventure shows you the highlights of the altiplano and the Atacama Desert, the driest desert on the planet. Add on this short adventure to any itinerary passing through Santiago for fantastic connectivity. Four days is the minimum amount of time to explore that we recommend and rest assured there are many additional excursions and activities if you wish to extend your desert stay by a few more days. Fly a few hours north of Santiago to Calama and transfer overland for to San Pedro de Atacama, a charming small town. This is your base for the next few days of adventure.
The oasis of San Pedro de Atacama offers the perfect mix of small town Chile with a beautiful old town centre and a range of cafes, shops and restaurants to relax after your days spent out exploring the desert. See the eerily silent landscape of the nearby Death Valley and Moon Valley, the stunning Atacama Salt Flat with salt ponds against the backdrop of snow-capped volcanoes and so much more.
This tour is completely flexible – activities & dates will adapt to personal preferences. Build Your Quote below to view your obligation free, customised trip.