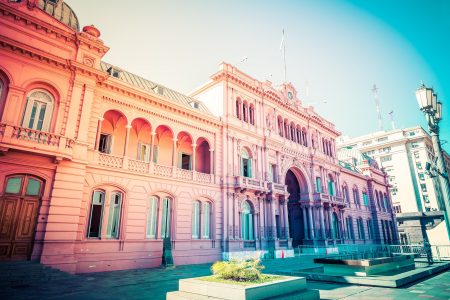 Visit Buenos Aires & Montevideo with our 7 Day Capital Cities Escape visiting both Argentina and Uruguay. The short ferry ride across Rio de la Plata provides fantastic connectivity between the two countries. Combine this with a Luxury Iguazu Falls trip or an Andes Lakes Crossing to create a customised itinerary.
This package begins with four days exploring in Buenos Aires – the cultural and political capital of Argentina. The city portrays a strong resemblance to many European cities with its elegant architecture, gourmet cuisine, fantastic shopping precincts and many nightclubs. You will see a tango show, visit the area of Tigre or a nearby ranch and soak up the sites. After a ferry ride across the delta, your next three days will be in Montevideo, Uruguay. This is a vibrant, eclectic city with a rich cultural heritage. About a third of Uruguay's total population lives in the capital of Montevideo. Stretching nearly 20 km from east to west, the city wears many faces, from its industrial port to the exclusive residential areas. Your program ends here after having visited the highlights of Buenos Aires & Montevideo.
This tour is completely flexible – activities & dates will adapt to personal preferences. Build Your Quote below to view your obligation free, customised trip.
Other Argentina, Uruguay Experiences