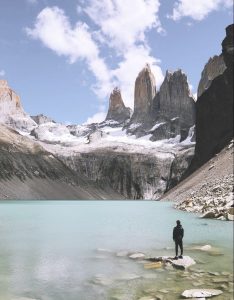 Explore Chile's desert and glaciers from North to South with this 13 Day Desert & Glaciers itinerary. Perfect for travellers wanting an outdoor adventure visiting some of Chile's best National Parks and reserves.
After spending two days in Santiago exploring the capital, the magic starts with your arrival to the Atacama Desert in the north of Chile. You will base yourself in the oasis of San Pedro de Atacama for the next four days with daytime excursions into the driest desert on earth. The region is a magical combination of national parks filled with a diverse range of wildlife, geyser fields, salt flats, canyons, geological formations, adobe houses, indigenous ruins and lagoons.
From here, fly south to begin your Patagonia experience. First spend four days based in Aysen exploring the San Rafael Lagoon National Park and its stunning glaciers. The adventure continues on the Aiken Del Sur private reserve, one of the most beautiful attractions in the region. Finally fly to Chile's southernmost major city – Punta Arenas for one night then continue on to the crown jewel of the country's national parks – Torres del Paine. This UNESCO World Biosphere Reserve is internationally known for its trekking opportunities and breathtaking landscapes. After four days exploring the park, your journey comes to an end as you either return home or continue on to your next adventure.
This tour is completely flexible – activities & dates will adapt to personal preferences. Build Your Quote below to view your obligation free, customised trip.