Our Cuba In Depth is a 15 Day Itinerary leading you through this unique island nation. Visiting many different UNESCO World Heritage Sites, this itinerary shows you the heart, soul and sounds of Cuba.
Your private journey starts with one night in Havana after international arrival before flying to Santiago de Cuba in the far south east. This city is shaped by its rich mix of cultures and Afro-Caribbean heritage and  is often said to be the most Caribbean city in the country. Next head north and further east to the coast and stay in Baracoa. On your explorations here you will have a peek into the rural Cuban life visiting a coffee and cocoa farm, walking through forested countryside. 
From Baracoa, journey south and westward to Bayamo, the highlands where where the fight for Cuban independence got its start. The tropical mountains and forest helped revolutionaries hide at the height of the conflict. Fidel Castro himself hid in the mountains in this area for over two years in the 1950s.
From Bayamo drive further west to Camaguey, a UNESCO World Heritage Site and one of the original colonial settlements from the early 1500s. The following day, continue on westward to Trinidad, Cuba's most iconic colonial town. Spend two nights here exploring the historic old town, nearby sugarcane plantations or taking a sea safari to an uninhabited tropical island.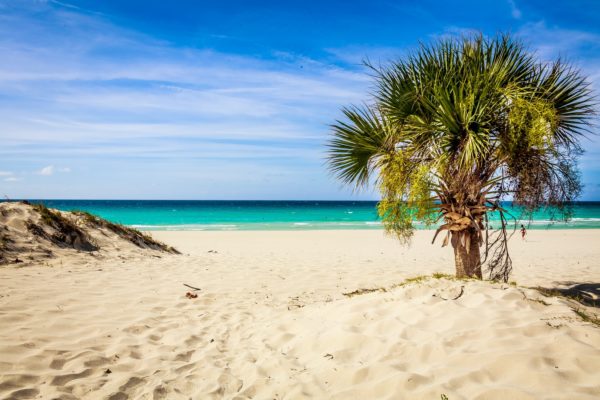 Your last stop before Havana is the beachside resort of Varadero. This is Cuba's most popular resort town with white sand beaches and turquoise waters to rival any other island in the Caribbean. Enjoy your time relaxing on the beach soaking up the sun or giving a try to the many water-sports options available.
Finally, for your last stop on this Cuba In Depth tour you will head back to properly explore Havana – the political and cultural capital of Cuba. The historic city centre is an UNESCO World Heritage Site and is the largest colonial city centre in all of Latin America.
The old city centre streets, alleys and plazas will transport you back in time and provide a glimpse of Cuba's past and present. Walk the famous 'malecon' along the water and soak up the atmosphere of Cuba's most iconic city. Listen to live music and dance the night away as you enjoy you final few days in this magical island called Cuba.
This tour is completely flexible – activities & dates will adapt to personal preferences. Build Your Quote below to view your obligation free, customised trip.