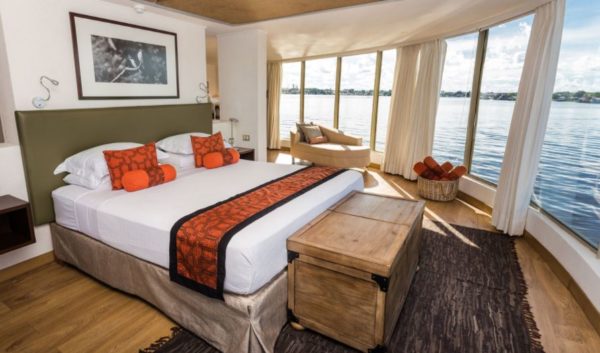 This Delfin III – 5 Day Cruise explores the Amazon River, which holds over one-half of the planet's remaining rainforest. The astonishing Amazon Jungle ecosystem owes its existence to the river.
Rising in the Peruvian Andes, the Amazon River winds its way east over the northern part of South America until reaching the Atlantic Ocean. It carries into the Atlantic a higher volume of water than the earth's top-10 largest rivers flowing into the ocean combined.
Recent studies claims that the Amazon River is actually longer than the Nile by 100 kms; and researchers at the National Geographic Society have determined the source point of the river to be at Mount Mismi in Arequipa (in Southern Peru). Its "green treasures" are a wealth that hold great promises for Earth and mankind in the future. No matter which Delfin cruise you choose, rest assured you will get an unforgettable experience. All programs have been carefully crafted to showcase the best flora and fauna in this section of the Amazon.
Delfin cruises explore the Marañon and Ucayali Rivers in the Pacaya Samiria National Reserve, home to amazing wildlife and also offering ideal soft adventure excursions for travellers to further discover the secrets of the Peruvian Amazonia. Although all activities are optional, guests are encouraged to tempt their adventurous side and choose among the array of experiences, including: kayaking in the calm creeks and lakes, fishing for piranhas at sunset, skirting the riverbanks in search of playful creatures, birdwatching, trail walks, and visits to local communities to interact with the native people, and more.
TJ4U Notes: Delfin Cruises offer three boats and a range of itineraries. This Delfin III 5 Day Cruise option on their most affordable vessel. This ship is comparable to the Anakonda and Manatee ships in the Ecuadorian Amazon and a great option for those looking to visit the Amazon in a comfortable boat. Review our Amazon Jungle page for full details on seasonality, routes, experience comparisons and how Travel Just 4U can help make your Amazon dream become reality.