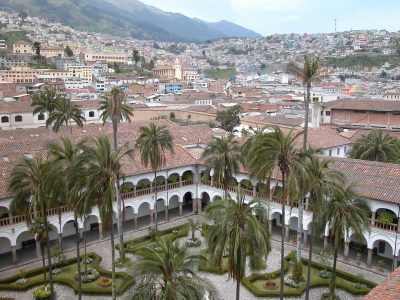 Ecuador Snapshot showcases the country's highlights with this express 9 Day Itinerary. This private tour combines the capital of Quito, the famous indigenous market of Otavalo, the Middle of the World Equatorial Monument, and of course, the world famous UNESCO listed Galapagos Islands. Ecuador Snapshot is perfect for travellers wanting to include this country as part of any South America itinerary.
Start in the capital of Quito with a full day city tour exploring the historic centre and visit to the nearby Middle of the World Monument on the equator. At the monument, you will be able to stand in both hemispheres at once. The following day, drive through the beautiful highlands to the town of Otavalo and visit the well known markets – if you can manage to visit on a Saturday, even better as that is when the market has the most local vendors. From mainland Ecuador, fly to the Galapagos Islands for your next 5 nights visiting the different islands and seeing a huge range of wildlife up close. Sea lions sunning themselves, blue footed boobies dancing, marine iguanas scurrying around and the endangered giant tortoises fighting for survival of their species.
This itinerary is completely flexible – activities and departure dates will be modified to your personal travel preferences. Contact us for an obligation free quote.
Other Ecuador Experiences