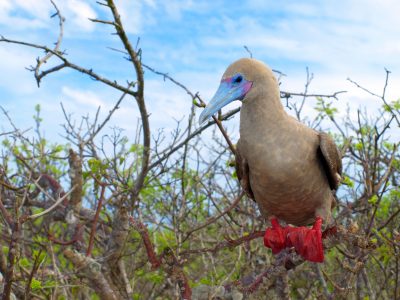 Our Galapagos Express 5 Day Itinerary allows you to explore the Galapagos Islands in a short amount of time. By basing yourself on Santa Cruz Island, you can easily take daily boat trips to a range of nearby islands to see the vast diversity of unique wildlife that call the Galapagos home. See our Galapagos overview for a full explanation on the many ways to explore the islands on land or on water.
With Galapagos Express, you will have the opportunity to swim and snorkel with sea lions, sea turtles, marine iguanas, penguins, rays and different species of tropical fishes. There will be a lot of bird spotting including the well known Darwin's finches, blue-footed and red-footed boobies, pelicans and frigate birds, among others. For your day at leisure, choose if you want to visit the Charles Darwin Station to see different species of Galapagos giant tortoise, relax at the famous Tortuga Bay, visit Las Grietas, see Garrapatero Beach or schedule another full day exploration to a nearby island. No matter which islands you decide to explore, you will see splendidly unique wildlife and scenery.
This tour is completely flexible – activities & dates will adapt to personal preferences. Build Your Quote below to view your obligation free, customised trip.
Other Ecuador Experiences