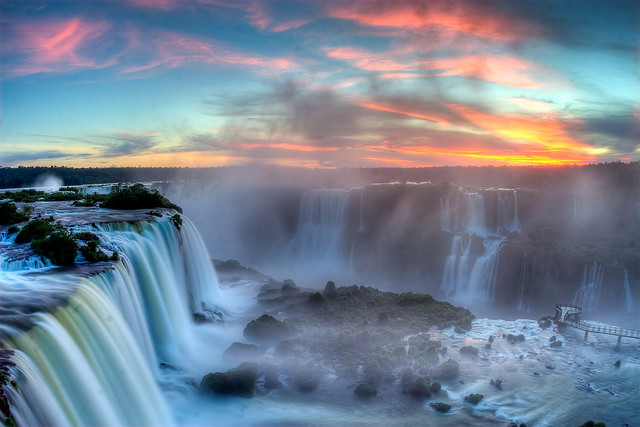 Explore this stunning site with our 3 Day Iguazu Falls Express itinerary. A short Iguazu adventure works as an add on for travellers visiting other South America destinations and as a pre or post tour for Antarctica cruises departing from Buenos Aires or Ushuaia. You can also upgrade this tour to a Luxury Iguazu tour.
On the border of Brazil and Argentina, Iguazu means 'Great River' in the indigenous Guarani language. After rising in the Brazilian highlands near Curitiba, the Iguazu river runs westward over 1100km before merging with many tributaries along the Paraná river and plunging thunderously over an 80m high cliff in virgin forest.
The Iguazu National Park has humid, tropical landscapes of red soil and bright green jungle, full of giant, ancient trees, and a large amount of endemic flora and fauna. There are over 275 cascades in Iguazu Falls across a 3km wide precipice, sending up an endless wall of spray laced with rainbows. Seeing the sheer power and hearing the wild roar of Iguazu Falls is a must for any visit to South America.
This tour is completely flexible – activities & dates will adapt to personal preferences. Build Your Quote below to view your obligation free, customised trip.
Other Argentina, Brazil Experiences