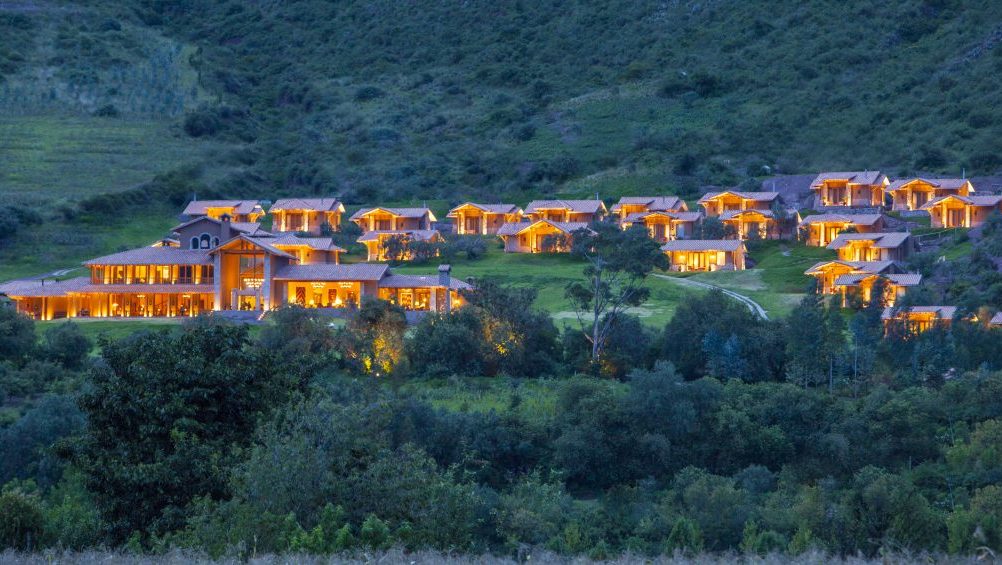 The Sacred Valley of the Incas is home to the Inkaterra Hacienda Urubamba hotel as well as some of the finest Inca sites in all of Peru.
The Valley's good weather and beautiful scenery, picturesque villages, folk arts and crafts and friendly local people, reflect the authenticity of Peru that travellers come searching for. The valley is also a paradise for eco friendly adventure sports such as trekking, horseback riding, mountain biking and rafting.
Inkaterra Hacienda Urubamba is located in the Town Center of Huayoccari, Huayllabamba district, province of Urubamba. Inkaterra Hacienda Urubamba is a contemporary hacienda-style hotel in the Sacred Valley of the Incas, in-between Cusco and Machu Picchu.
Immersed in the countryside in a gorgeous area, the hotel spans approximately 100 acres surrounded by imposing green mountains that provide beautiful outlooks from around the property. The design is inspired by Cusco region's traditional architecture, with interiors inspired by the area's native materials. It accomplishes the Inkaterra-style Andean luxury, conserving the spirit of the Peruvian sierra.
NOTE: At Travel Just 4U, we recommend a minimum of one night in the Sacred Valley and ideally two to three to fully experience all it has to offer. This is on top of a few nights in Cuzco and a night in Aguas Calientes (Machu Picchu). Even though it may seem like many days all in the same general area – each of these three locations offer different experiences. This hotel can also replace any Sacred Valley property in our longer Peru itineraries.
This tour is completely flexible – activities & dates will adapt to personal preferences. Build Your Quote below to view your obligation free, customised trip.