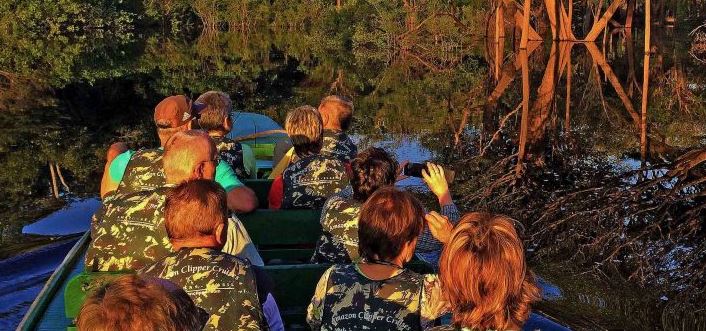 Explore the Amazon with this M/V Premium Amazon River – 3 Day Cruise. For 25 years Amazon Clipper Cruises has been a leader in operating boat cruises in the Brazilian Amazon and will ensure your trip is as comfortable as possible and still offer a perfect interaction with nature.
Beginning your cruise in the heart of the Brazilian Amazon rain forest is an amazing start. Witnessing the confluence of the two biggest rivers on earth, the Amazon River and the Negro River, at the "Meeting of the Waters" is a once in a lifetime journey. You will get the chance to walk in the forest and canoe around this incredible area and visit the inhabitants of the lake who live there from manioc plantations, fishing, diverse fruit trees, rubber, Brazil-nut trees, wood and other extractive products. The piranha fishing in late afternoon is not only for passionate anglers then there are good chances of seeing Hoatzins and large flocks of egrets.
TJ4U Notes: This M/V Premium Amazon River – 3 Day Cruise option is operated on a comfortable 3* vessel and is operated by Amazon Clipper Cruises. This is a a great option for those looking to visit the Amazon with a shorter itinerary. Review our Amazon Jungle page for full details on seasonality, routes, experience comparisons and how Travel Just 4U can help make your Amazon dream become reality.