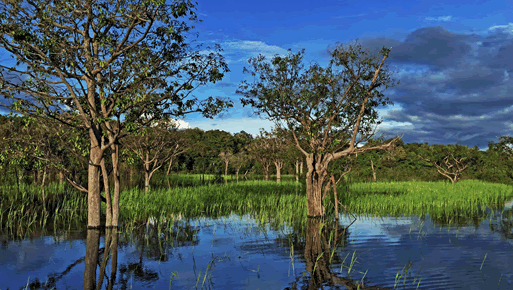 Discover the Rio Negro on this M/V Premium Rio Negro – 4 Day Cruise. For 25 years Amazon Clipper Cruises has been a leader in operating boat cruises in the Brazilian Amazon and will ensure your trip is as comfortable as possible and still offer a perfect interaction with nature.
Explore the surroundings along the upstream on the Rio Negro waters edge in canoes while looking out for fruit eating birds like parrots and toucans and big water lilies and delightful pink dolphins. Head on jungle walks and discover many surprising fragrances in leaves, fruits, woods and animals. You'll be able to navigate through the Anavilhanas National Park, one of the world's largest fresh water archipelagos, a labyrinth of waterways. Towards the end of this amazing cruise, you will also get the chance to navigate to the "Meeting of the Waters", the confluence of the world's two largest rivers, the Amazon and the Negro.
TJ4U Notes: This M/V Premium Rio Negro – 4 Day Cruise option is operated on a comfortable 3* vessel and is operated by Amazon Clipper Cruises. This is a a great option for those looking to visit the Amazon with a shorter itinerary. Review our Amazon Jungle page for full details on seasonality, routes, experience comparisons and how Travel Just 4U can help make your Amazon dream become reality.