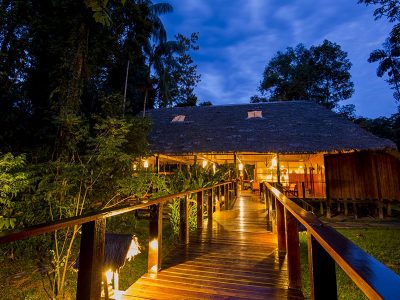 Posada Amazonas provides a range of All Inclusive Peruvian jungle stays with access to the nearby Tambopata National Reserve. To compare all of the Amazon Jungle experiences South America offers, see our Amazon Jungle Overview.
Owned by the local community of Ese'Eja people, this award-winning eco-lodge is a fantastic example of community-based tourism and conservation. Posada Amazonas is a 30-room Amazon jungle lodge perfect for your first taste of the Peruvian Amazon's natural wonders. Despite being relatively close to Puerto Maldonado, Posada Amazonas offers ample opportunities to see wildlife such as squirrel monkeys, howler monkeys, parrots, macaws and giant river otters among others.
Your guided activities are included and you can row around oxbow lake, visit the parrot clay lick, walk to the huge kapok tree near the lodge and see the Infierno Community's ethnobotanical center. This program is for those looking to experience the Peruvian Amazon basin with an express 3 night stay.
If you are interested in a longer Amazon experience deeper into the jungle, please consider our Amazon In Depth program as an alternative option.
This tour is completely flexible – activities & dates will adapt to personal preferences. Build Your Quote below to view your obligation free, customised trip