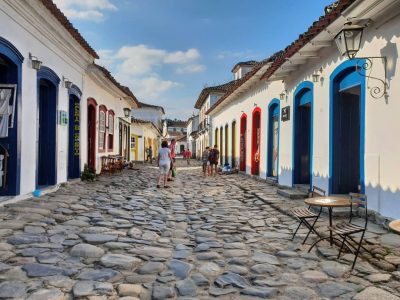 Explore Rio de Janeiro, Brazil's most famous city and state, with our 10 Day Rio Road Adventure Itinerary. For travellers looking to discover more of Brazil's lesser known destinations, consider our Brazil with a Difference tour as a supplement to this adventure.
Your journey begins in the world famous city of Rio de Janeiro – renowned for being the city that never sleeps. Spend three days seeing the highlights including Copacabana Beach and one of the most photographed statues in the world – UNESCO listed Christ the Redeemer. Next continue overland with a few hours drive south through lush landscapes followed by a short boat ride out to Ilha Grande. Spend two nights on the island, a pristine nature area with many trekking paths and calm beaches for relaxing.
Return to the mainland via boat and continue south along the coast another few hours to the colonial town of Paraty for your next few days. This is a cultural and architectural landmark with cobblestone streets and brightly coloured buildings reminiscent of the Portuguese colonial era.
From Paraty, continue overland for a few hours to end this Rio Road Adventure in Sao Paulo, Brazil's most populous city, for a day or exploration before departure. Alternatively, we may suggest a return to Rio de Janeiro (equal distance drive from Paraty) as opposed to Sao Paulo if better flight connections fit your onward itinerary.
This tour is completely flexible – activities & dates will adapt to personal preferences. Build Your Quote below to view your obligation free, customised trip.