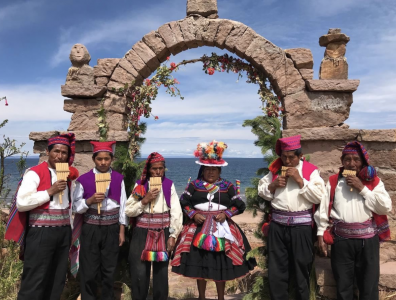 Discover a Taste of Peru on this 12 Day Itinerary visiting the highlights of the country. Starting in the capital city of Lima, explore the colonial city centre during the day and the beautiful parks near your hotel in Miraflores. Here you have the option for a full day culinary class at Hotel B where you will visit a local market with the chef and learn to prepare some classic Peruvian dishes. From Lima, fly to Cuzco and immediately transfer to the Sacred Valley at a lower altitude to acclimatise. Visit the small towns and soak up the culture and stunning scenery through the valley.
Board a train to Aguas Calientes for one night and then tour Machu Picchu with your private guide. Named as one of the new Seven Wonders of the World, the UNESCO World Heritage site Machu Picchu is the most well-known archaeological site in the world. Return to Cuzco via train for the next few days. After you half day tour to orient you and showcase the main attractions in town – you can enjoy time at leisure or take a full day hiking tour high in the mountains. From Cuzco head overland via train or bus to Lake Titicaca for you final exploration of the world's highest navigable lake. This 12 Day Taste of Peru will not leave you disappointed!
NOTE: Lima has some of South America's best restaurants, many of which require reservations months in advance – we can help set this up for you.
This tour is completely flexible – activities & dates will adapt to personal preferences. Build Your Quote below to view your obligation free, customised trip.