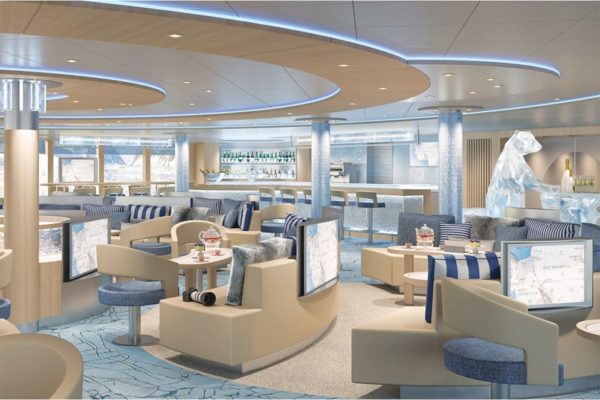 The sister ship to the Endurance, the brand new National Geographic Resolution explores polar & temperate regions & is named to honor the second voyage of the legendary Captain James Cook.
A fully-stabilized vessel of the highest ice class (PC5 Category A), she will enable adventurous guests to go where few have or can. Resolution's most striking exterior feature is her distinctive profile, the patented X-Bow®, a game-changing design that guarantees the smoothest, most comfortable ride in all kinds of conditions; and since it eliminates bow impact, a quieter ride, as well.
Scandinavian-inflected, luxuriously appointed, her inviting interiors would be a destination in themselves. All cabins have large windows, private facilities, climate controls, an expedition command center equipped with tablets and USB/mobile device docking, flat screen TVs, WiFi connections, and hair dryers.
There is also three dining areas; an observation lounge with bar, gym, wellness area, infinity-style outdoor hot tubs with adjacent igloos; library; main lounge with full service bar, 24-hour beverage station, state-of-the-art tech for films/presentations; B&H Photo locker and a photo workshop area; science hub; an onboard broadcast studio; an expedition base with lockers for expedition gear; and open access to the Bridge, Captain, officers and on-duty wildlife spotters.
For extra comfort there is a glass-enclosed yoga studio, gym, treatment rooms and spa relax area, and high and low-heat saunas with ocean views, staffed by wellness specialists. Thanks to the Lindblad-National Geographic alliance, you can sail aboard the Resolution to the planet's most extraordinary place in the company of world-renowned scientists, naturalists, educators, and researchers, and explore stunning natural environments alongside skilled specialists using state-of-the-art exploration tools.
Unsure if this National Geographic Resolution ship is right for you? Review our Antarctica destination overview for full details on seasonality, routes, ship selection, pricing, expedition inclusions and how Travel Just 4U can help make your Antarctica dream become reality.
Departures
Dec 30, 2022

18 days - 17 nights

AUD $ 26,300

per person

Jan 09, 2023

12 days - 11 nights

AUD $ 23,720

per person

Jan 19, 2023

12 days - 11 nights

AUD $ 21,390

per person

Jan 29, 2023

12 days - 11 nights

AUD $ 21,800

per person

Feb 08, 2023

12 days - 11 nights

AUD $ 21,800

per person

Feb 18, 2023

12 days - 11 nights

AUD $ 20,980

per person

Mar 10, 2023

22 Days - 21 Nights

AUD $ 38,100

per person
Inclusions
Included
National Geographic photographer and specialists on board
B&H on loan camera equipment store
Hotels ashore as indicated in itinerary
Meals on land, as indicated in itinerary
All beverages including alcohol
24-hour coffee, cappuccinos, lattes, filtered water and soda on demand
Sightseeing & entrance fees
Special access permits, park fees, port taxes
Transfers to and from group flights as per itinerary
The expertise of our expedition staff including presentations and guest speakers in the lounge
All on shore excursions
Zodiac & kayak explorations
Crew gratuities
Fitness centre and a fully stocked library, and other gracious public spaces
The services of a physician
Expedition Parka
Use of boots for expedition shore excursions
Not Included
International or domestic flights, unless specified
Additional hotel nights
Private transfers
Travel Insurance
Passport, visa, and immigration fees
Spa treatments
Laundry, internet and phone services
Gift shop items and any other items of personal nature
*Note that we will quote flights for you when provided with your desired travel dates. Costs will vary depending on your travel dates.