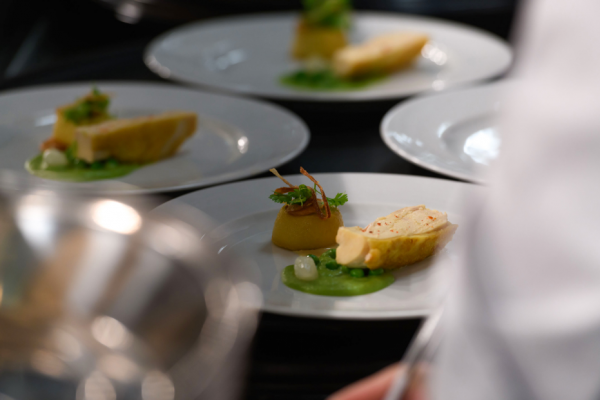 Explore our range of Antarctica Ships available for expeditions to the most remote continent on earth. Over 150 different ships travel annually to Antarctica and they range from small expedition ships with less than 100 passengers to giant ocean liners over 3,000 guests. As you can imagine, those experiences are incredibly varied so below we have included helpful details on how to pick the right Antarctica ship for your adventure.
Every traveller is different with some placing more importance on the ship itself and others on the expedition operations. With our ship rating system, we have selected four key criteria that most affects the overall Antarctica experience and will allow you to compare ships accurately.
These four key components that we use to categorise Antarctica Ships are ship size, onboard star level that reflects comfort and overall service, quality of expeditions and how they are run as well as optional extra activities a ship has on offer.
Antarctica Ship Size – Passengers & Cabins Available
Overall ship size and passenger numbers affect ambience, stability, landing sites you can access, how much time spent on shore and the overall cost of the cruise. There are two main types – ships with 500 plus passengers (ocean liners) who are not allowed let guests go ashore and ships with fewer than 500 guests (expedition ships) that are built to provide travellers with on shore activities. Please note that we only feature Expedition Ships as we believe this provides the best experience. If you are interested in cruising to Antarctica that does not include expeditions off of the ship, please get in touch.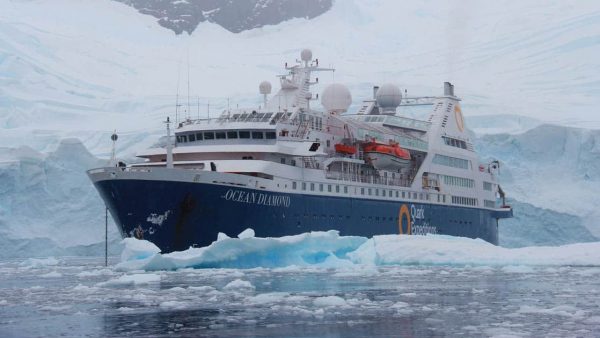 Small Sized Ships – 150 Passengers or less
Small ships are generally more expensive but offer very personalised service. They also generally provide extended time on shore exploring but they can be susceptible to swaying on rougher water.
Medium Sized Ships – 151 to 200 Passengers
These ships have a good balance of time on shore and service. They are more stable than the smallest ships and there are more passengers overall which means lower price tag. 
Large Sized Ships – 201 to 500 Passengers
These are generally the most affordable options. Some are even luxurious as you are spending more time on board and less excursion time on shore. These larger ships in general are the least affected by ocean swells in terms of sway and movement.
One final note on ship size – it is important to know only 100 guests at any time can be on shore at one site. This means that ships with over 100 guests, you should evaluate how many zodiacs and docking areas they have to better gauge how much waiting may be involved with multiple excursions a day. 
Antarctica Ship Star Rating – Overall Comfort Level
The ship star rating refers to the overall level of comfort onboard. This includes cabins, common areas, and amenities like cuisine and also takes into consideration overall customer service from staff. We only feature and offer ships that meet a minimum 3* star overall rating.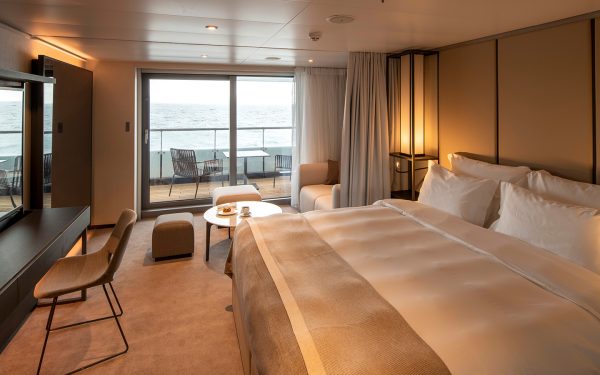 Luxury Ships – 5* Stars
Luxury means a very high level of service and comfort on board. Gourmet cuisine, stunning cabins and common areas and even butler service and private hot tubs in select cabins.
Comfort Ships – 4* Stars
Mid range 4* Star ships mean comfortable cabins, great cuisine and amenities onboard that cater to guests wanting to enjoy time on board in comfort with wonderful service.

Standard Ships – 3* Stars
Standard ships have basic but comfortable rooms and common areas and many 3* options still provide excellent service. The main trade off is that many of the 3 Star options are very expedition focused and you spend less time on board. Meals are still quality but less gourmet than 4 and 5 Star ships. 
Antarctica Expeditions – Quality & Time Off the Ship
This rating measures how expeditions are operated. In general the lower the total passenger number and the higher zodiac to passenger overall ratio, the more time you will spend on expeditions off the ship. We also take into consideration the variety and how many included expeditions there are with your cruise.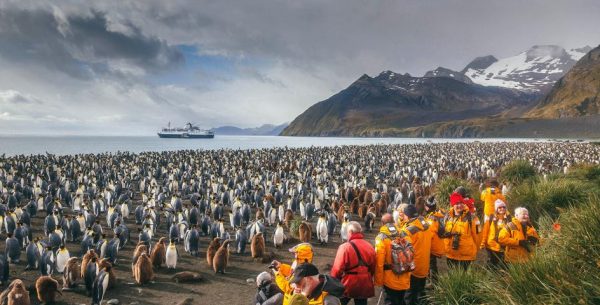 High Expedition Rating
This is for ships with a high ratio of zodiac capacity to passengers and a great range of included activities providing maximum time exploring – usually twice a day expeditions.
Medium Expedition Rating
This is usually applied to ships with a higher passenger to zodiac ratio which requires staged on shore explorations allowing less time off the ship – usually only once a day expeditions.
Low Expedition Rating
We don't feature ships with a Low Expedition Rating as travellers have better experiences when they spend time ashore.
Optional Extras – Range of Activities In Addition to Included Expeditions

This rating refers to extra paid activities offered on top of standard inclusions. The majority of ships offer at least some extras like sea kayaks, hiking or camping on shore. Other ships also offer helicopter rides, scuba diving and more. These can come at a high price but for extreme adventure seekers, this may be worth while. 
Many Optional Extras
A Many Extras rating means a wide variety of optional extras like camping, sea kayaking, mountaineering, helicopter rides, scuba and more are available to guests. 
Some Optional Extras
This rating means you do have access to additional activities like kayaking or ice camping but they may have limited spots and not include extras like helicopter rides or scuba diving.
Few Optional Extras
Few Extras mean it is likely not an expedition cruise and is more focused towards onboard entertainment and comfort. We do not feature many ships with this rating.
Antarctica Ships