South Georgia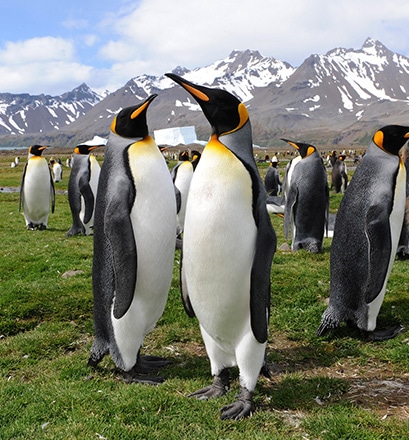 South Georgia is a British Overseas Territory in the southern Atlantic Ocean. With a collection of islands, consisting of South Georgia and a chain of smaller islands known as the South Sandwich Islands, it is one of the remotest and wildest places on earth.  South Georgia itself is a small island only 176km long, but with a 3,000m snow-capped mountain range, with some of the world's largest congregations of wildlife and a truly fascinating human history,  In the summer almost 75% of the island is covered in snow, ice, and glaciers. Come winter, a covering of snow reaches right down to the water's edge.
South Georgia is sometimes called the "Galapagos of the Poles" because of the massive 250,000 king penguin colony at Salisbury Plain, and other wildlife, including the thousands of fur and elephant seals. One day you may see rookeries with hundreds of thousands of pairs of king penguins waddling on a beach, and the next, you may visit another beach blanketed with thousands of fur or elephant seals. The marine ecosystem is considered one of the densest examples of biodiversity in the world.
Polar history enthusiasts are particularly keen to visit here. British explorer Sir Ernest Shackleton first crossed the island in 1916 in search of aid for his ill-fated trans-Antarctic expedition. Upon Shackleton's death, his widow insisted the late great explorer be buried at the former whaling station at Grytviken. South Georgia is an island of incredible riches and is a must for those animal and penguin lovers.