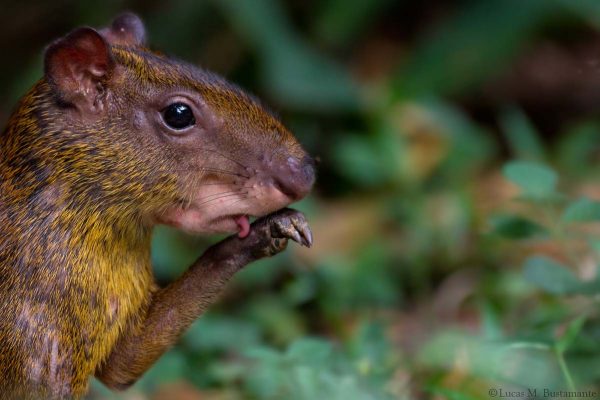 The Amazon Jungle covers a huge portion of the South American continent providing endless wildlife experiences in a variety of countries and styles. Travellers looking to maximise exploration at a high comfort level with air conditioned cabins may consider cruising through the Amazon Jungle in Peru or Ecuador. Those with a sense of adventure may prefer a jungle lodge deep in the Amazon that is fantastic for spotting rare animals.
Below we provide an overview of experiences available in each country as a starting point. Many factors contribute to deciding which is the best option so reach out with questions and we will point you in the right direction.
As a first step, we recommend deciding between a jungle lodge or river cruise. Secondly, consider which part of the Amazon to explore. In addition to the highlights of each area, another important factor in choosing where to go, is the rest of your South America itinerary as some jungles experiences may be much easier logistically for your particular trip.
Jungle Lodges vs River Cruising
Rest assured that no matter which option you choose, you will see a wide range of wildlife, have fantastic guides, and experience the beauty of the Amazon Jungle. There is no wrong option, but some experiences are suited better to different travellers.
Cost, comfort level, wildlife and location are all factors to consider when choosing between an Amazon jungle lodge or a river cruise.
Cost is a key consideration and can quickly narrow down the options for most travellers. While Amazon river cruises range in price, they are generally much more expensive than lodges. This is due to high operating costs, smaller number of guests, and the very high level comfort many boats provide. Bottom line – if keeping costs down is a priority then we recommend you choose an Amazon lodge.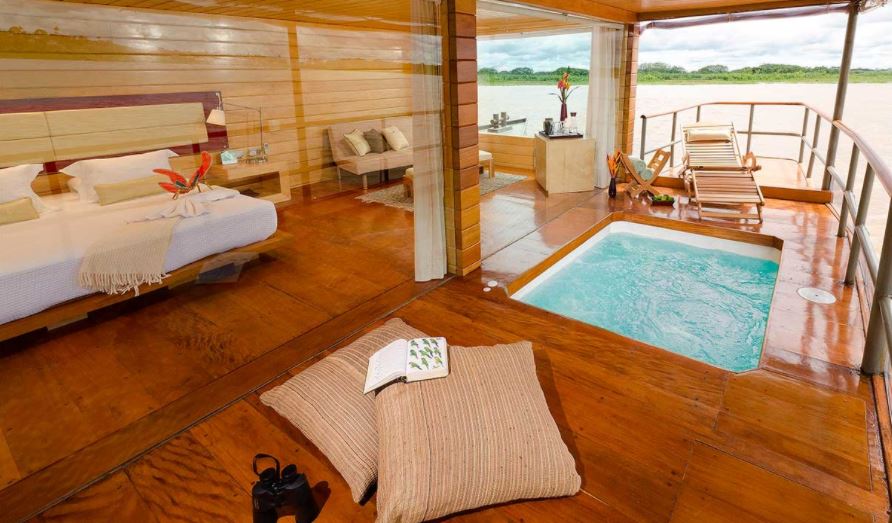 Comfort level in the jungle is something many travellers overlook. Lodges often have open walls to keep cool and provide atmosphere, mosquito nets on the beds, and most have electricity on for only a set amount of time a day. At some higher end lodges there are suites with plunge pools and other fantastic amenities, but the standard rooms at most lodes are basic and no lodges provide full air conditioning, just fans. The lodges are very comfortable and service is fantastic, but these are remote locations and not the same high level of comfort found in cities and more populated areas of Latin America.
River cruises vary but all of the higher end options provide air conditioned beautiful cabins, gourmet meals, and lovely common areas with complete seals and no mosquito nets necessary. Bottom line – if you can't imagine coming face to face with a frog in your room or needing a mosquito net for the insects, choose an Amazon river cruise.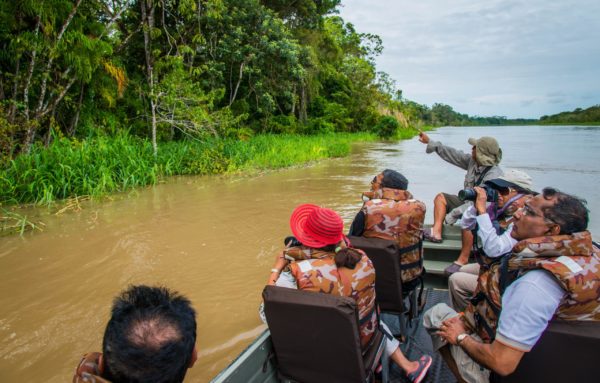 Wildlife is one of the main draws of the rainforest and many photos show zoomed in close up shots of unique wildlife. The reality is more nuanced, with occasional up close sightings in the Amazon but the majority of wildlife is seen at a distance in the tree tops or on the banks of the river. Binoculars and long lensed cameras are popular in the jungle and assist in spotting animals.
Both lodges and cruises include daily excursions into the jungle, on the ground, walking along ropeways higher in the trees or in small boats along the river. Monkeys, sloths, caiman, river otters, dolphins, jaguars, manatees, frogs, toucans, parrots and more inhabit the Amazon Jungle – catching a glimpse may be from a distance but still magnificent.
Bottom line – wildlife experiences are similar for lodges and cruises and depend on which area you choose. With specific lodges, you can get farther into the remote jungle and cruises cover more ground allowing for a wider area of exploration.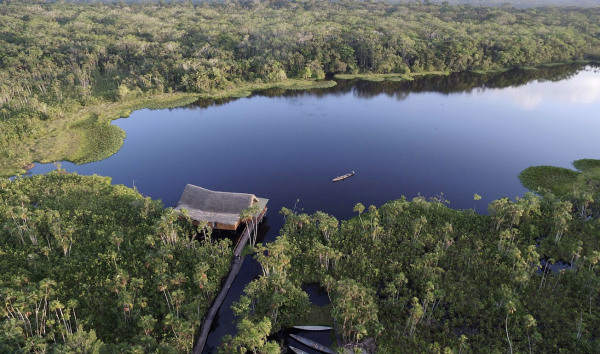 The Location of your Amazon Jungle adventure greatly impacts the overall experience. With multiple countries offering uniquely different destinations, there are a few points to consider.
Lodges are located in all major jungle destinations but river cruising is from just in three select areas. Fly to Iquitos in Northern Peru has cruises exploring the Pacaya Samiria National Reserve. Head to Coca in Ecuador for cruises through the Yasuni National Park which eventually merges with the Amazon near Iquitos. Fly to Manaus in Brazil and cruise the Rio Negro or Amazon. Colombia and Ecuador provide wonderful opportunities to interact with local indigenous communities. Peru and Ecuador provide some of the best River Cruising experiences on the Amazon. In the Madre de Dios region of south eastern Peru, fly to Puerto Maldonado and head deep into the Tambopata National Reserve and search for jaguars, monkeys, birds and many other animals.
Amazon Jungle Experiences Comparison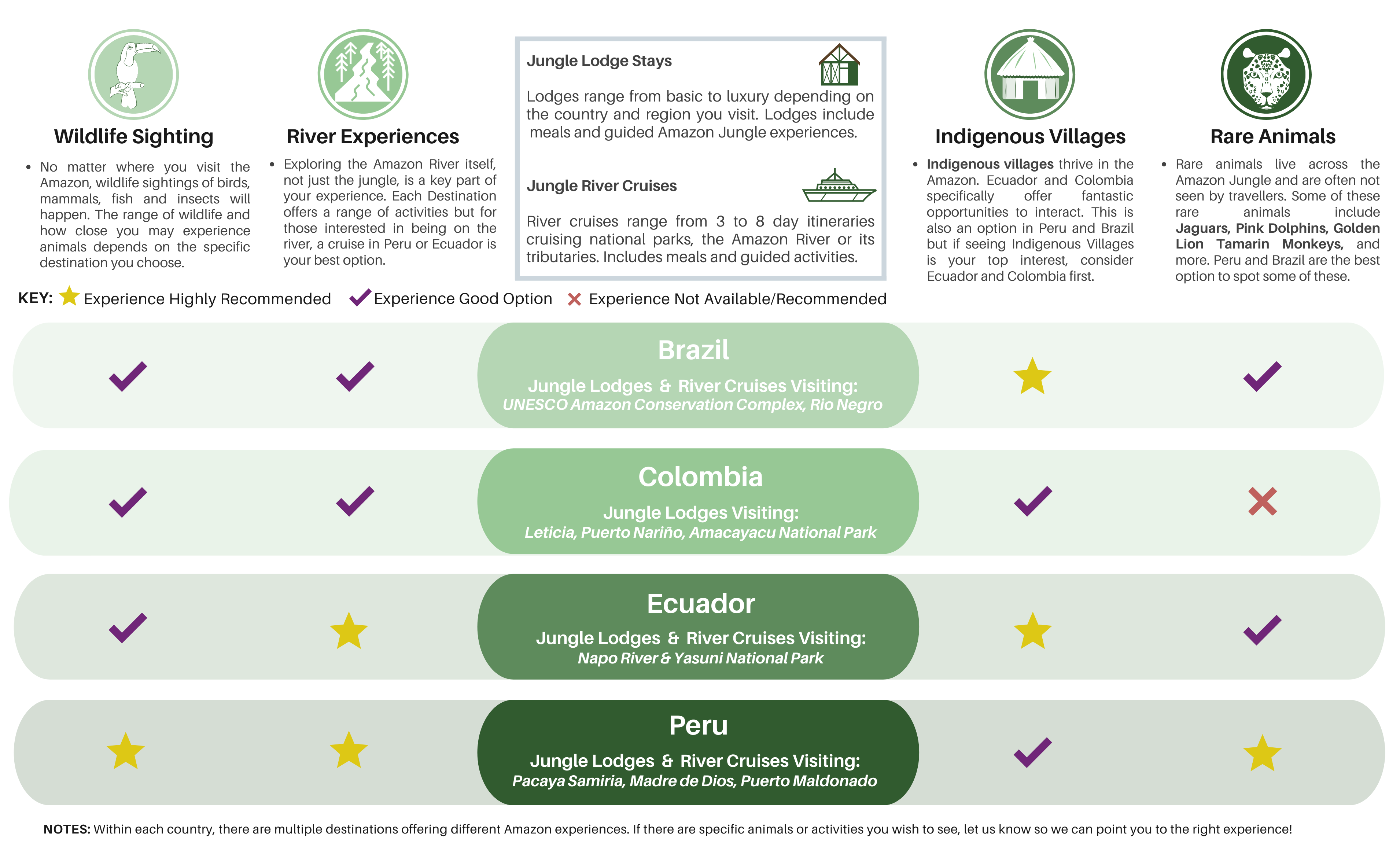 Amazon Jungle Experiences