The Amazon Jungle covers a huge portion of the South American continent providing endless wildlife experiences in a variety of countries and styles. Travellers looking to maximise exploration at a high comfort level with air conditioned cabins may consider cruising through the Amazon Jungle in Peru or Ecuador. Have a sense of adventure? Consider a jungle lodge deep in the Peruvian Amazon, fantastic for rare animal sightings.
First, we recommend choosing a jungle lodge or river cruise. The cost, comfort level, wildlife and location are all factors to consider.
Secondly, pick which part of the Amazon to explore. Consider not just the highlights of each area, but also the rest of your South America itinerary. Some jungles experiences may be much easier logistically for your particular trip.
Jungle Lodges vs River Cruising

Cost
Total cost is a key consideration and can quickly narrow down the options for most travellers. While Amazon river cruises range in price, they are generally much more expensive than lodges. This is due to high operating costs, smaller number of guests, and the very high level comfort many boats provide.
Lodges can also range in price, but from a much lower per person, per day starting point than cruising. A lodge 4 day experience could cost between $1,000 to $3,000 per person less than a similar length cruise.
Bottom line – if keeping costs down is a priority then we recommend you choose an Amazon lodge over cruising.
Comfort
Comfort in the jungle is something many travellers overlook. Lodges have open walls, mosquito nets on beds, and most have electricity for only a set amount of time a day.
At higher end lodges, suites may have plunge pools and other amenities, but standard rooms at most lodges are basic with just fans. They are all comfortable and feature fantastic service, but the remoteness means you cannot compare to levels of comfort found elsewhere.
Cruises vary, but most options provide air conditioned beautiful cabins, gourmet meals, lovely common areas and no mosquito nets necessary.
Bottom line – if you can't imagine coming face to face with a frog in your room or needing a mosquito net for the insects, choose a river cruise.
Wildlife
Animals are one of the main draws to the rainforest. Many photos show zoomed in, close up shots of unique wildlife – including our leopard photo atop this page! The reality is more nuanced, with occasional up close sightings. The majority of wildlife is seen in the tree tops or on the banks of the river. Binoculars and long lensed cameras are popular to spot animals.
Both lodges and cruises include daily excursions, on the ground, walking on ropeways high in the trees or in small boats on the river. Monkeys, sloths, caiman, river otters, dolphins, jaguars, manatees, toucans and more inhabit the Amazon Jungle – catching a glimpse is magnificent.
Bottom line – wildlife experiences are similar.  Sightings depends more on location as some lodges are situated in the remote jungle, while cruises cover more ground allowing for wider area of exploration.
The Location
Lodge location hugely impacts your experience. Multiple countries offer uniquely different destinations so there are a few points to consider.
Lodges are located in all major jungle areas, but river cruising is from just in three select areas. Cruises from Iquitos, north Peru explore the Pacaya Samiria National Reserve, from Coca, Ecuador  cruise the Yasuni National Park and from Manaus, Brazil cruise the Rio Negro or Amazon.
Colombia and Ecuador provide wonderful opportunities to interact with local indigenous communities. Peru and Ecuador provide some of the best River Cruising experiences on the continent. From Puerto Maldonado in south eastern Peru, head deep into the Tambopata National Reserve and search for jaguars, monkeys, birds and more.
Amazon Jungle Experiences Comparison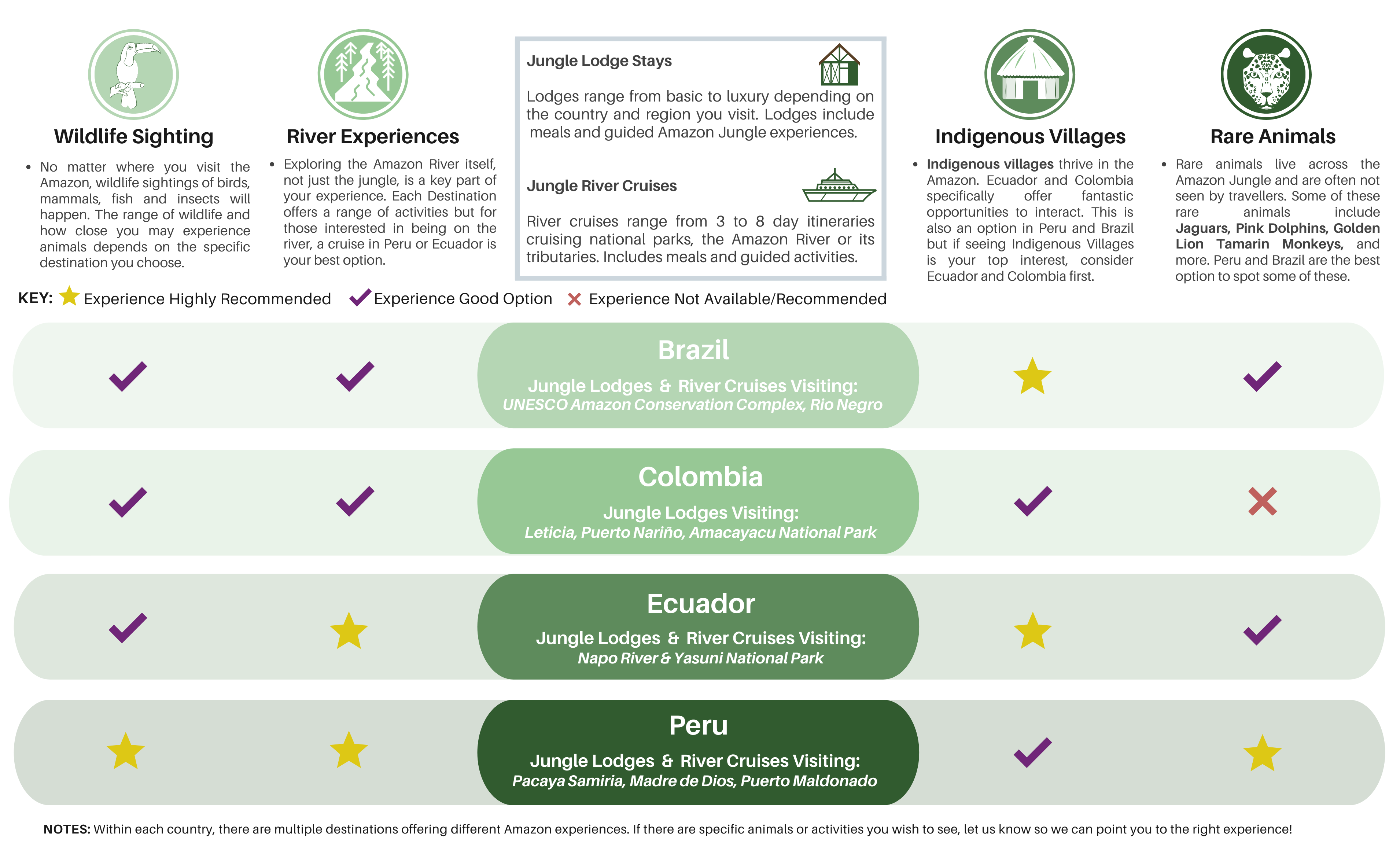 Amazon Jungle Experiences