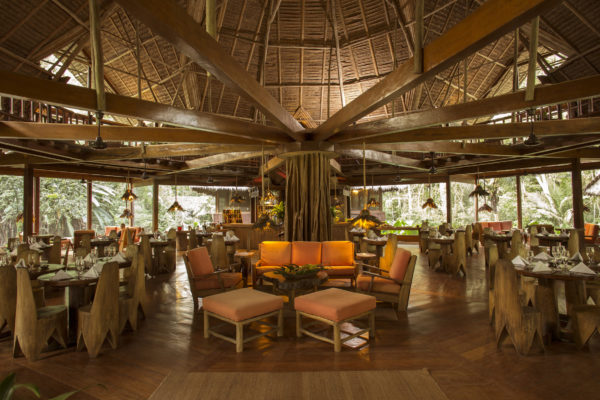 The Inkaterra Reserva Amazonica is a beautiful all inclusive eco-luxury lodge on the Madre de Dios River in the Peruvian Amazon. This lodge best suits travellers wanting a jungle experience but without giving up the comforts of higher end experiences.
Inkaterra, the Peruvian owned company which runs Reserva Amazonica aslo operates a sister lodge, the nearby Hacienda Concepcion, which is a fantastic alternative for travellers looking for an affordable jungle option. The property has 35 wooden cabanas inspired in the Ese'Eja culture and there are 540 bird species which have been documented on hotel grounds, deep in the rainforest.
The property offers a varied selection of à-la-carte excursions, including a visit to the Inkaterra Canopy Walkway, a bridge system at 30 meters above the ground, allowing adventurers to enjoy a privileged view of the Amazon. Wildlife like sloths, monkeys, and birds thrive high in the trees and the bridges allow for up close experiences.
Pristine, remote and yet easily accessible, Reserva Amazonica is adjacent to the lush Tambopata National Reserve, where the Madre de Dios river meanders through the Southern Peru rainforest region. This reserve is a welcoming haven situated at the heart of a 17,000 hectare private ecological reserve, only a 25-minute flight from Cuzco.
This tour is completely flexible – activities & dates will adapt to personal preferences. Build Your Quote below to view your obligation free, customised trip.