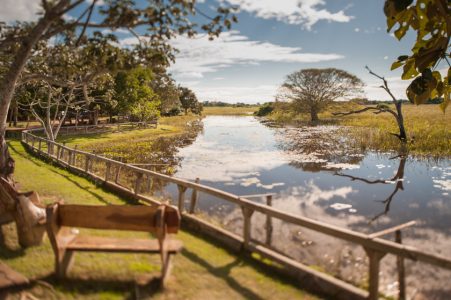 This Epic Pantanal 8 Day Itinerary is a fantastic wildlife tour featuring the best of the north Pantanal and the Cuiabá river. Your exciting adventure provides chances to see a huge amount of wildlife, including the elusive jaguar (between June and October) as well as tapir, anaconda, giant river otter and many exotic birds. You will stay at three lodges across the region – all lodges include your meals and your guided activities through the region. For a shorter wildlife experience, see our 4 Day Pantanal Adventure.
The Pantanal is a UNESCO World Heritage Conservation Area and is one of the few remaining great wilderness areas in the world. This is South America's primary wildlife sanctuary covering a total of 240,000 km² at the centre of the continent. It is a biogeography mixing bowl, containing elements of the Amazonian and Atlantic rainforests, the Brazilian savanna and the Paraguayan chaco. This fantastic biodiversity includes 698 bird species, 100 mammals, 177 reptiles, 40 amphibians and 250 fish species – the flora and fauna seen on the adventure will not disappoint. 
This itinerary is completely flexible – activities and departure dates will be modified to your personal travel preferences. Contact us for an obligation free quote.