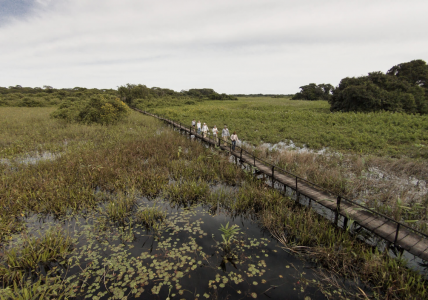 Live this 4 Day Pantanal Adventure and explore the planet's largest continuous floodplain. This is a great short add on for any visit to Brazil. If you have extra days, consider our longer 8 day Epic Pantanal itinerary for maximum wildlife exposure.
Spend four days at the self-sustainable Araras Eco Lodge seeing the wildlife and beautiful scenery. You will have access to excellent birdwatching, trails in primary forest and suspended walkways over wetlands, canoes, horse rides, photo safaris in appropriate vehicles, and much more, everything with the assistance of guides.
The Pantanal is a UNESCO World Heritage Conservation Area and is one of the few remaining great wilderness areas in the world. The Pantanal is South America's primary wildlife sanctuary covering a total of 240,000 km² at the centre of the continent. It is a biogeography mixing bowl, containing elements of the Amazonian and Atlantic rainforests, the Brazilian savanna and the Paraguayan chaco. This fantastic biodiversity is the home of 698 bird species, 100 mammals, 177 reptiles, 40 amphibians and over 250 fish species – the wildlife here will not disappoint. 
This itinerary is completely flexible – activities and departure dates will be modified to your personal travel preferences. Contact us for an obligation free quote.