How we work at Travel Just 4U is very different to a general Travel Agency in a mall or on your local High Street. We want our clients and potential travellers to understand not only how we work, but how our services can greatly benefit those headed on holidays to Antarctica and Latin America.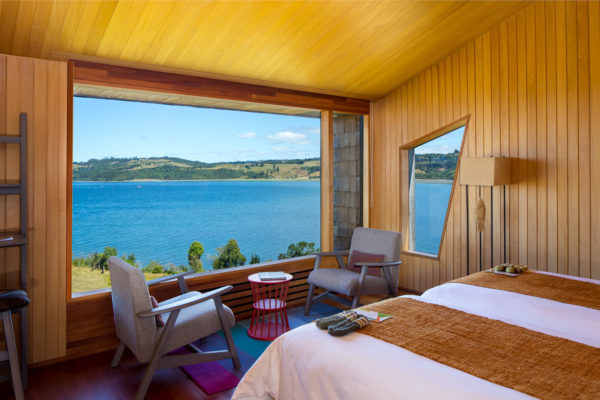 Want to know what Travel Services we offer?
Here we provide an overview of what clients get when they journey with us, what travel services are on offer and to which parts of the world and the different customised itineraries we create.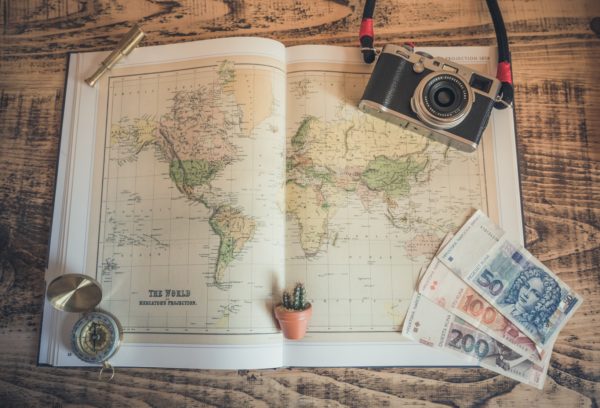 Interested in the specifics of How We Operate?
Here we'll address the details of how the booking process works, what we do behind the scenes and also answer some of the frequent questions we receive about how we operate.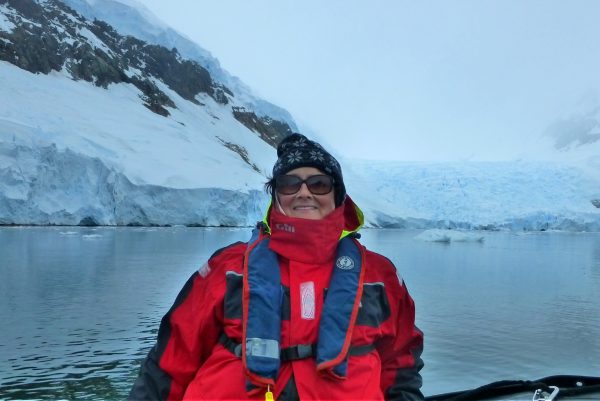 After info on our Team of People?
We love talking to potential clients about our personal travel experiences and helping them decide if working with us is the right choice for their travel plans.
---
Travel Services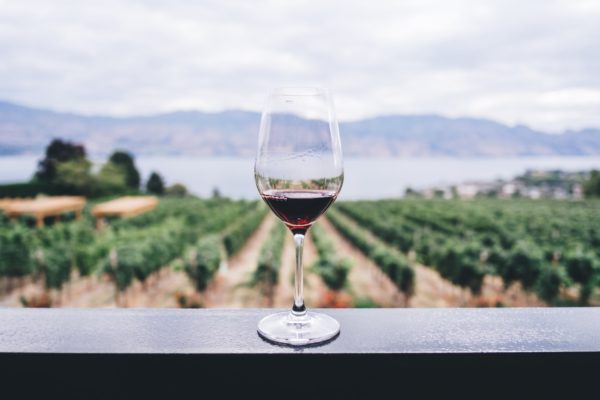 Overview
Travel Just 4U organises fully customised, private itineraries for travellers to Latin America, Antarctica and other select locations around the globe. Every traveller with us receives the full range of services below.
Sounds simple right? For our clients, it absolutely is!
Access to wholesale, discounted rates on flights, hotels, cruises, tours & more
A fully customised, private itinerary (with mobile access) – this means you are the only person with your unique itinerary and travel dates
Pre-departure information pack and a virtual, or in person, briefing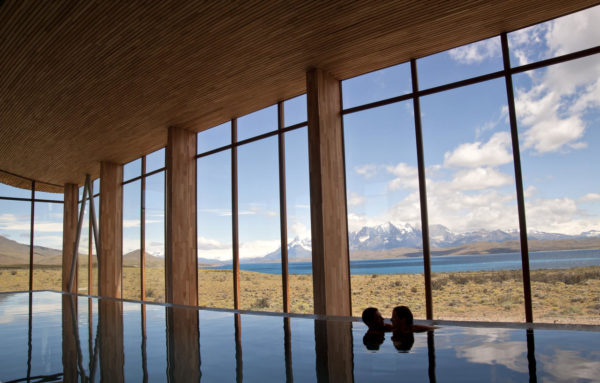 Private arrival services in each country/destination. A driver & guide will escort your travel party to your hotel, review the itinerary and ensure you have everything needed to enjoy your time there.
In select countries, 24 Hour WhatsApp concierge service (at no extra charge)
Private day tours, small group day tours – or a mix of both – with excellent English speaking guides in a range of destinations. We'll recommend where is worth upgrading to a fully private tour and where a shared tour is a better option.
24 Hour in country local support for any emergency or issue that may arise
Direct contact with TJ4U's Managing Director throughout the booking, travelling and post-trip follow up to address potential issue that arises
Full Service Travel Package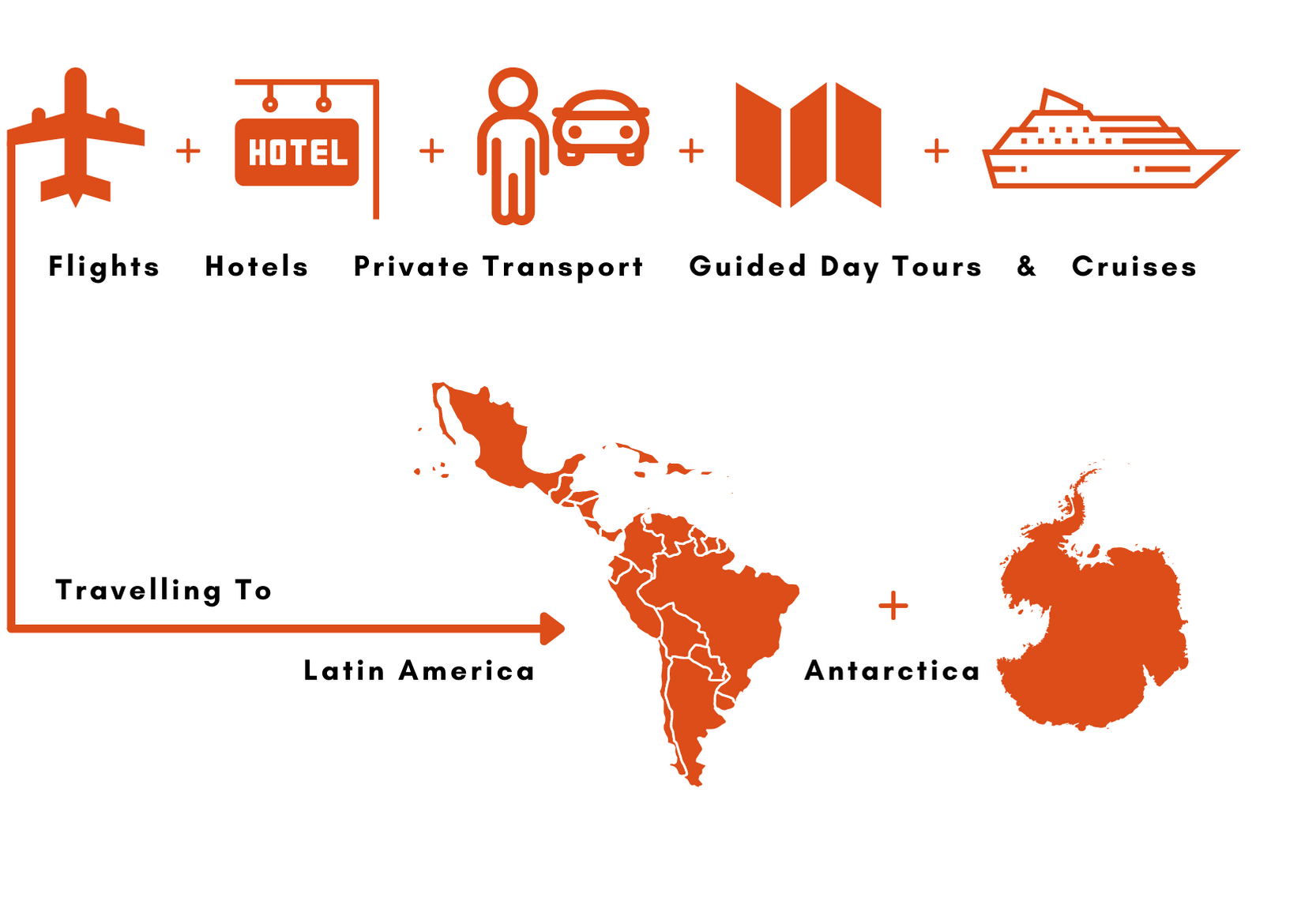 Our specialty! Full service clients make up 85% of our travellers.
When we manage everything about your customised trip (travellers pick how much activity is included) like flights, ground transport arrangements, hotels, private tours and restaurant reservations around Latin America & Antarctica.
This full service experience creates the optimal conditions for our travellers.
We can also save money for clients by linking their international ticket from Australia to their internal Latin America flights.
We also take full responsibility for your flight connections and will ensure any airline changes are dealt with immediately with the best possible outcome, even if you are already travelling when these changes occur.
Note: We also offer full service & ground arrangements travel for our repeat clients to other worldwide destinations outside of Latin America.
Ground Arrangements Travel Package – No Flights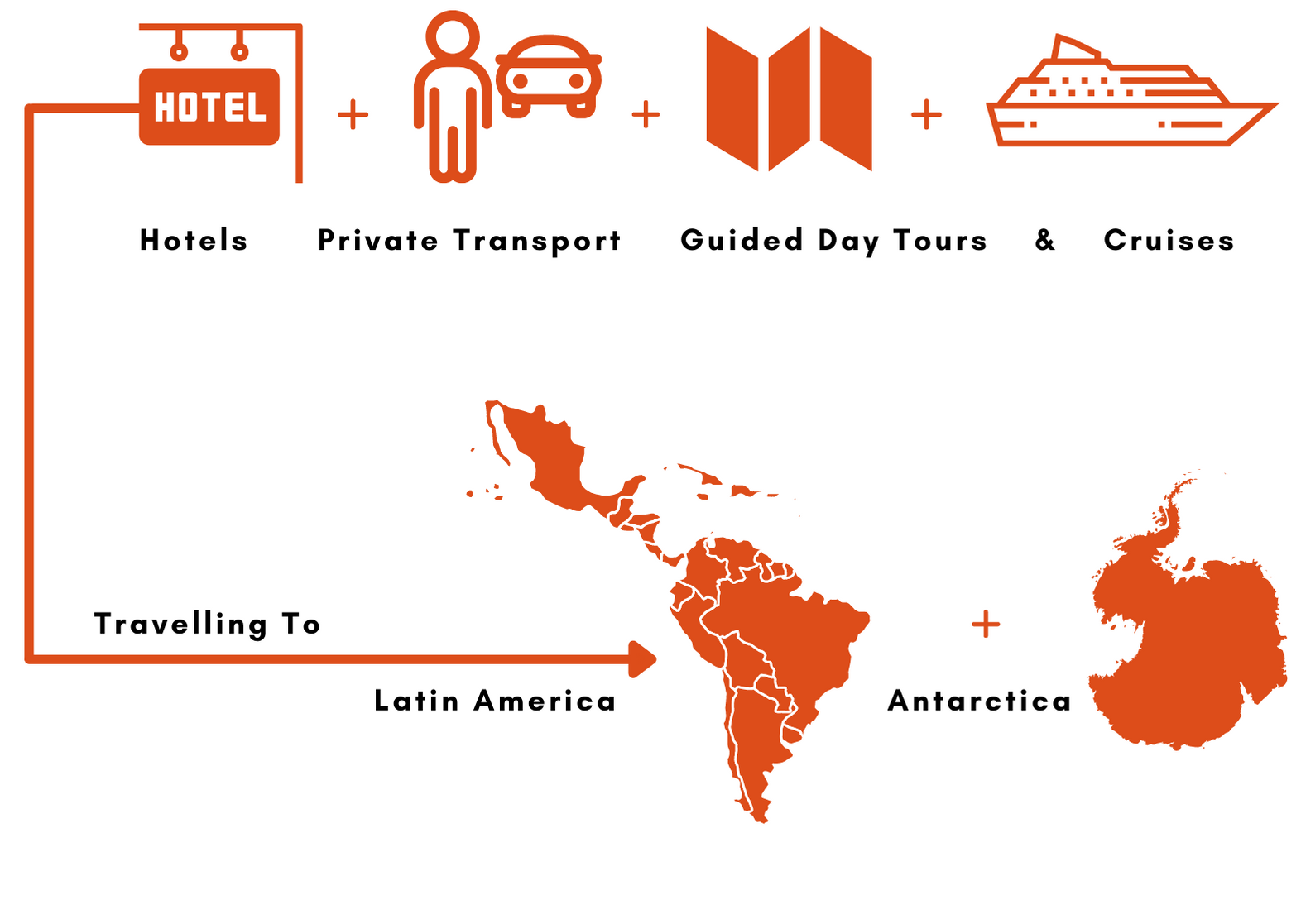 In some cases, we can arrange a ground only itinerary.
We do on occasion, put together ground only packages for clients that are already in Latin America, have already purchased their flights when they contact us, or want to use loyalty points to book their own flights.
This option means clients need to manage their own flights fully, delays or last minute changes are their responsibility.
Changes from airlines can cause days of delay if notifications are missed. We will always work as closely as possible to ensure this doesn't happen! However, the risk of delays in Latin America is very high so if clients choose this option, we encourage them to check their flights daily while travelling and act accordingly.
Flights Only – Worldwide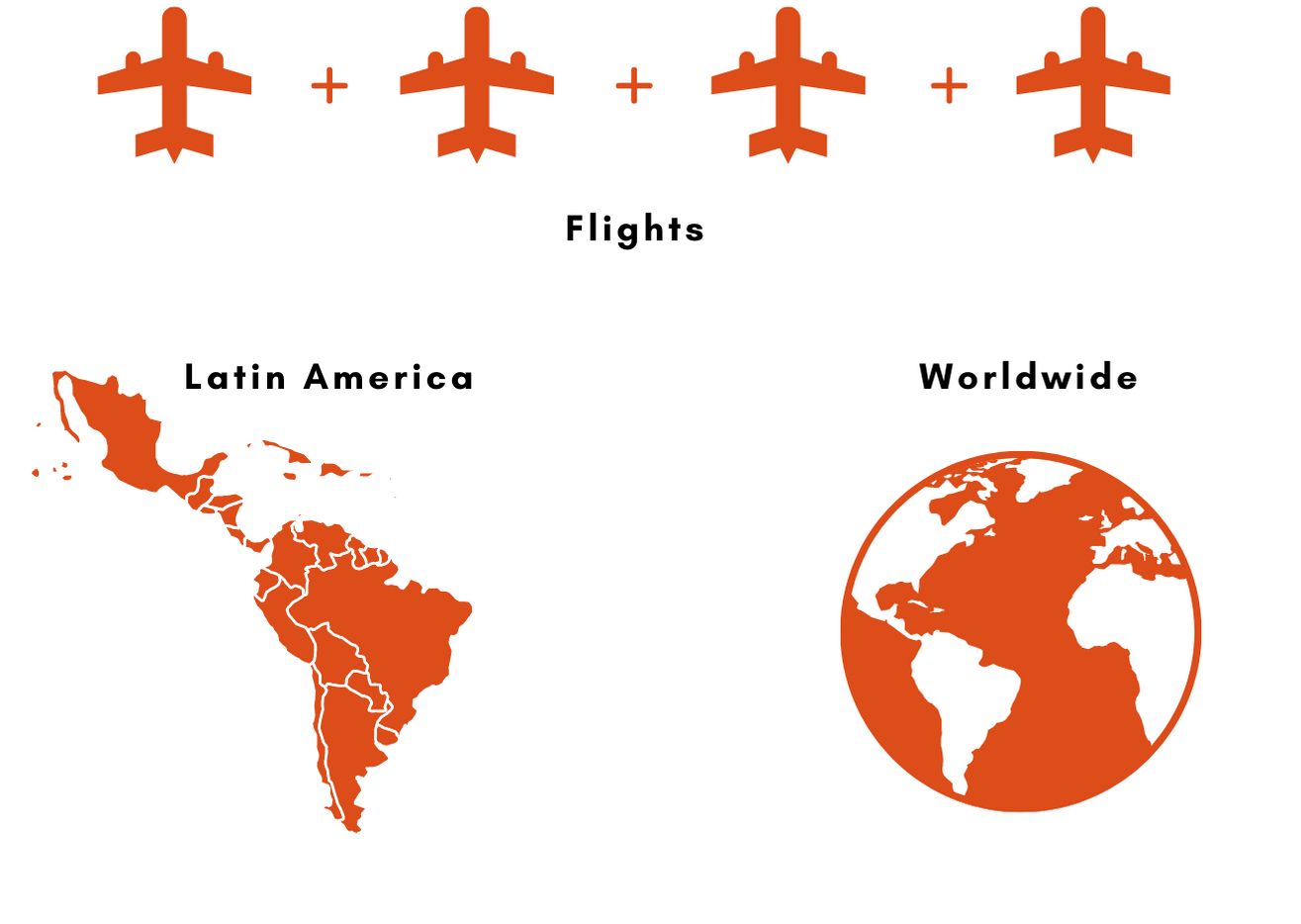 We mostly service exisiting clients or issue round the world tickets.
We have access to the best rates available across Latin American and to some key destinations worldwide, particularly on Round the World tickets.
In certain cases that do not involve Latin America, you may be better off booking flights directly with an airline if you are looking for a domestic flight, or a non-stop fare from Australia to another international destination. We are always happy to quote free of charge, but because we are not a bulk flight issuer for destinations other than Latin America, our access to discounted rates varies by location.
We generally limit this service to our current clients as an added value. This is because airlines no longer pay high enough commissions to cover our cost in the time required to manage flight bookings, especially follow ups in the case of schedule changes which can be quite challenging.
---
How We Work
Booking & Travel Process Overview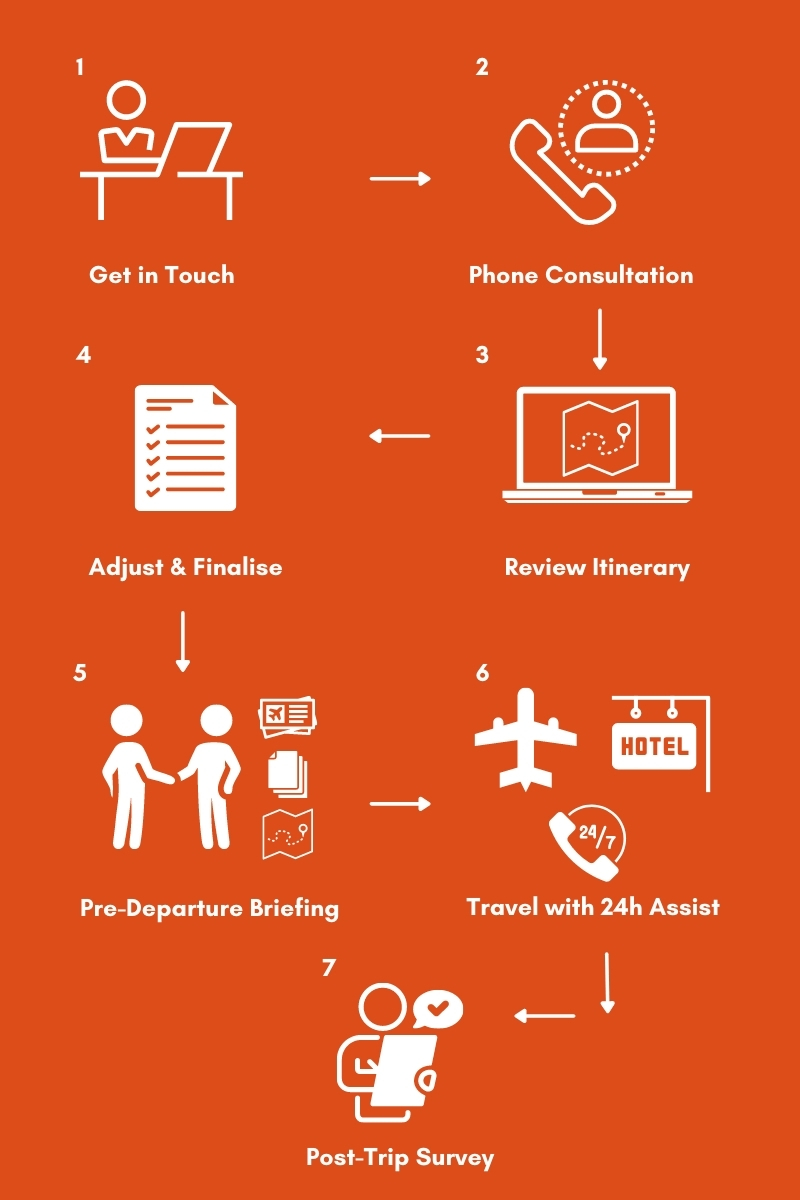 We make booking with Travel Just 4U simple with the following steps.
1 – Get In Touch: You choose how to contact us. Browse our site for destination ideas and Build Your Quote via any trip that strikes your fancy OR fill out our request form OR send us an email OR the easiest of all, you can give us a call! No matter how you get in touch – you have our promise there is no obligation or pressure attached with requesting a quote.
2 – Brief Phone Consultation: Before getting to work, we want to ensure we fully understand a client's needs. After years of experience, we have found a 10 min phone call saves hours of emails. Creating customised quotes for our clients is manual and labour intensive so we use this quick call to guide you through the range of options.
3 – Review Your Customised Itinerary Online: We'll send you a link to view your detailed itinerary and quote online. This is the fun part! Read through the day by day activities, hotels, destinations and see all of the logistics involved in your itinerary.
4 – Itinerary Adjustments & Confirmation: Once you have reviewed your proposal, we'll take into account any adjustments and update your quote. If you are happy with the changes, we'll then confirm your itinerary with our ground partners.
5 – Final Documentation & Pre-Departure Briefing: About 30 days before departure, we'll send final documentation like itinerary, flight details, emergency contacts and more with general country information. We'll run you through all of this and answer any final questions on a pre-departure briefing in person or on the phone.
6 – Travel: The long awaited journey has arrived! While you are away, we'll be in regular contact with our ground partners who are taking care of you.
7 – Post Trip Follow Up: Once back home, we will follow up with a quick online survey and request your feedback on your trip. This is very important for us to ensure our services remain up to standard for all of our future travellers.
General FAQs
Continue scrolling to read through all of questions below or click on a specific question to jump down to answers. Give us a call if you would like any further information!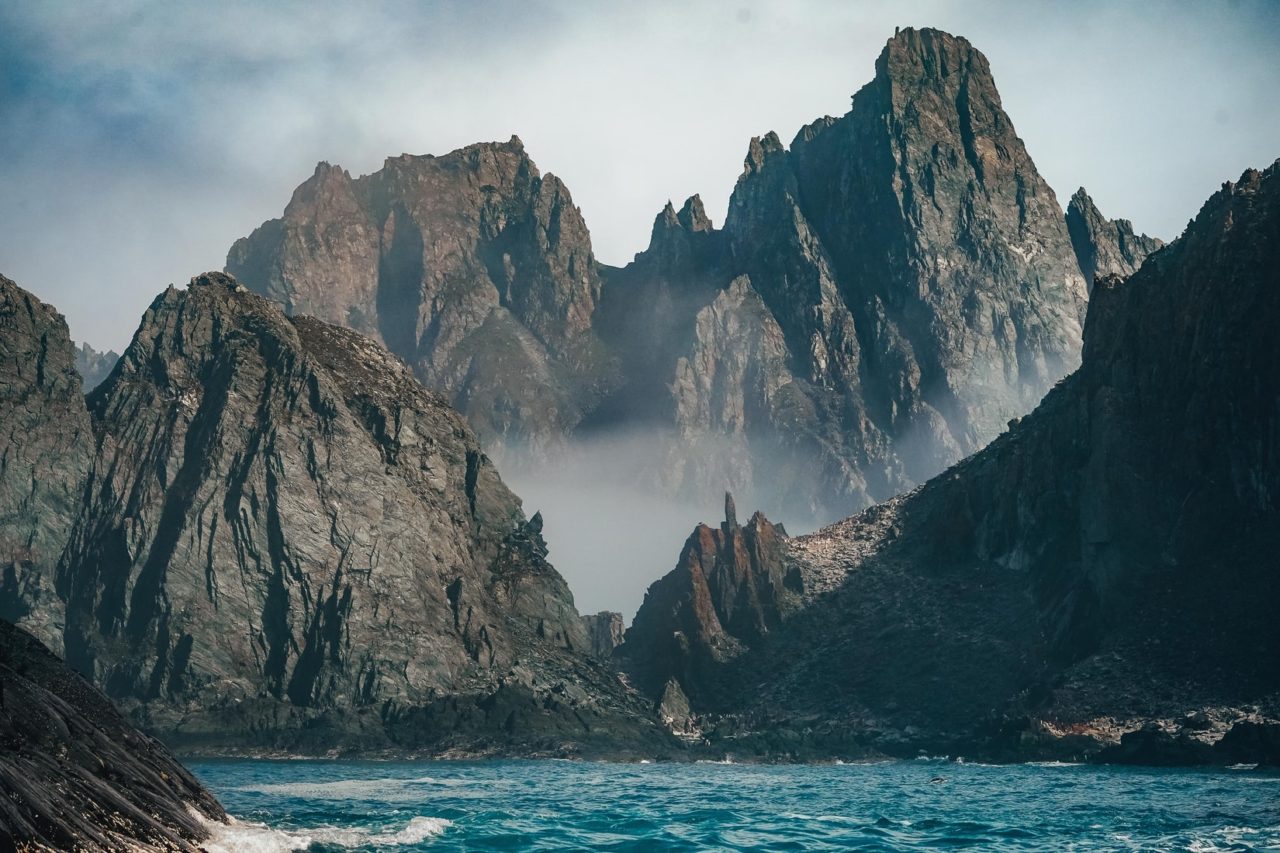 Covid-19 Related FAQs
---
Where Travel Just 4U fits in the Travel Industry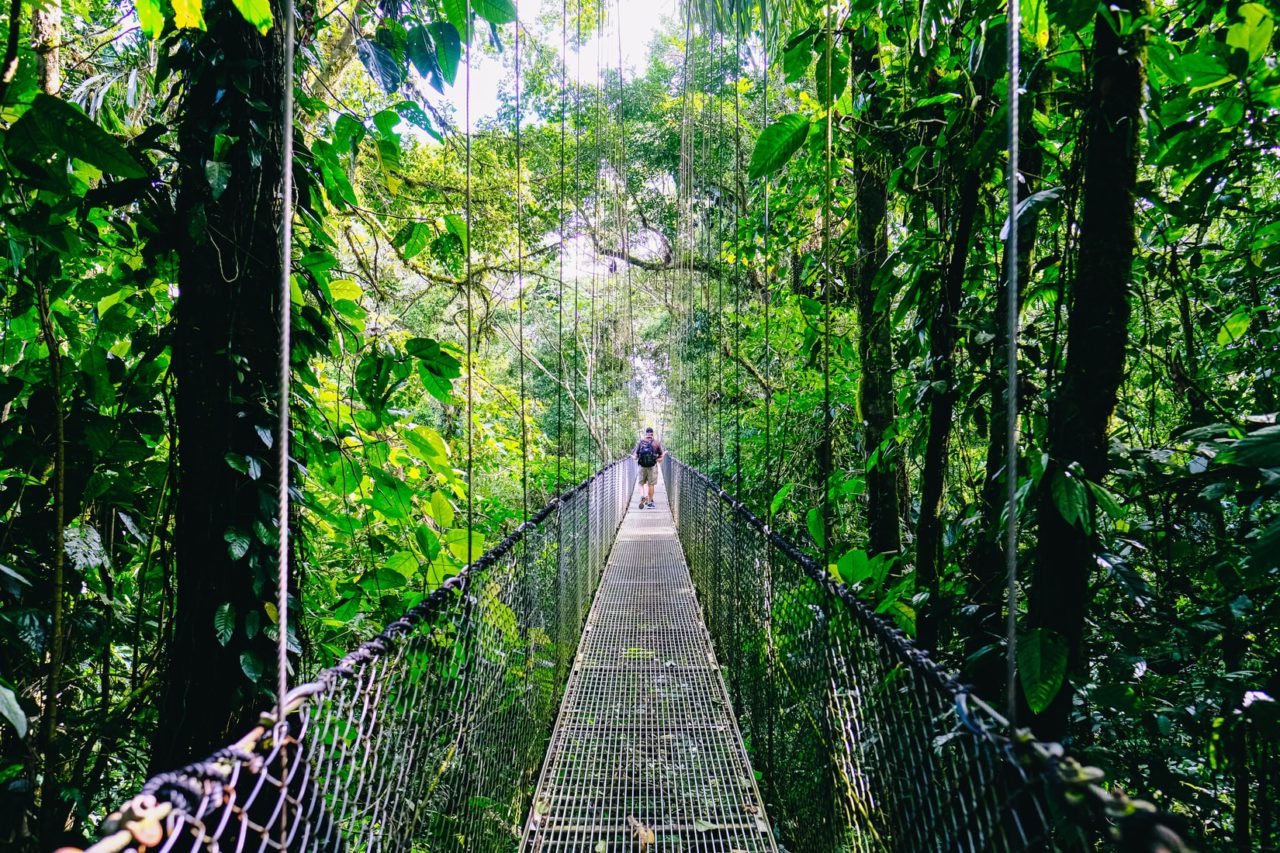 Travel Just 4U is a specialist FIT (Fully Independent Traveller) travel company focusing on individual trips to Antarctica & Latin America that we book directly with ground operators based overseas. Most retail travel agencies in Australia (ie those found in malls or on high streets) sell trips and products from around the world via other Australian wholesale tour companies.
All of the Latin America ground itineraries listed on our site are customisable. They are not group tours. This means you travel on your own, or with a small group of friends or family that you choose.
We are different in that we book directly with products IN Latin America and Antarctica. You pay us the agreed price in AUD, we manage the international payments in USD to a variety of suppliers and have control over every aspect of your ground experience. Particularly for customised itineraries like the ones we create – we want to ensure every segment of your trip runs smoothly.
In most general travel agencies, this is not the case. For example, you may say you are interested in a group tour to Egypt. The agent may suggest you join a Bunnik Tour and you agree and pay them in AUD. The agent then confirms your booking and pays in AUD to the Adelaide based Bunnik Tours who makes all the arrangements with their Egypt office. In this case you have used your local agent to book Egypt via another Australian company. This is a common way to book, and especially for someone looking to join a set group tour (not what we do), can be a great option.
How We Manage Client Bookings & Communication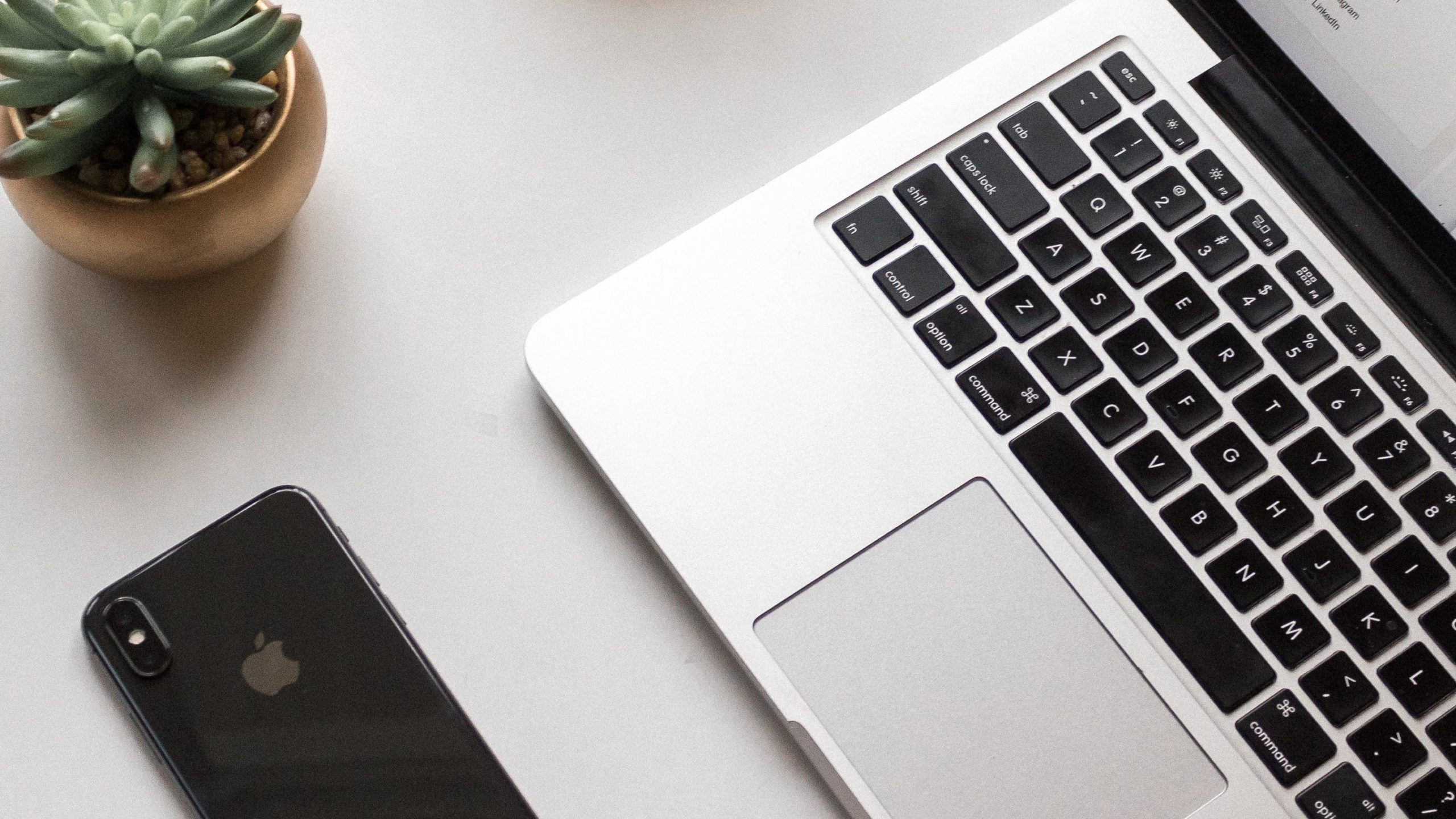 We are a small team that works on a salary basis, not an individual commission model. That means we all take part in different aspects of a clients bookings depending on personal relationships with those clients and individual skill sets. You will have a main point of contact for each part of the booking and travelling process with us.
For example, Remko may be person you speak with regarding the planning of your itinerary to Brazil as he spent a lot of time there during the 2014 World Cup. After you settle on an itinerary, Sally may follow up with your confirmed itinerary, room types and make any notes on special requests as she speaks with our ground suppliers the most frequently. While you are travelling, Sarah may reach out to make sure everything is going to plan as she takes care of operations and marketing and we know the best marketing value comes from making sure clients have a fantastic experience with us.
Customised Quoting – for free!
We spend anywhere from 2 to 5 hours on each custom quote we put together. Contrary to quoting via an automated online booking site like Expedia, ours is a manual process that changes for each client because it is customised.
We insist on speaking with potential travellers prior to a quote as that is when we help work through their ideas and land on a great itinerary. We then speak on the phone or email with each supplier, create a unique itinerary, and quote flights for every proposal. It is a manual and time consuming process, but we have found it produces the best results.
The time spent on customising quotes is well worth it so potential clients can see what we provide before deciding if they want to book with us. It is a significant investment on our part and we are genuinely happy to do this for free. All we ask in return, is that clients let us know as soon as possible if they change their plans or decide to book elsewhere.
Deposits & Payment Terms
When a client is happy with an itinerary and wants to officially hold hotel spaces and lock in services, we then require a non-refundable deposit (see special Covid-19 terms & conditions for exemptions).
This deposit is typically 20% of ground arrangements, but this is dependent on what itinerary components you are booking. For example, some Antarctica or Galapagos cruises and overnight trains require a 25% deposit. We strongly recommend that ALL clients take out a travel insurance policy that includes Cancellation Cover to cover these deposits should a situation arise that prevents travel.
Once a client provides official Quote Sign Off, we'll send through an invoice with all the details and await payment. When we have received this, Travel Just 4U begins its confirmations. Please note flight costs are only due when they are available for booking. However, as many of our clients plan their trip prior to flights being available, that is an independent booking process after they come into date range. Flights do not need to be available yet to lock in your package.
There are a few important steps we follow with our confirmations once we have your deposit. Firstly, we lock in the AUD to USD currency contract rate to ensure any fluctuations don't mean an increased price. We pay our currency broker a fee to lock this in on your behalf.
Next, we pay a deposit to our ground partners to secure your itinerary at the agreed upon rates and ensure your hotels, trains, tours, guides etc. have your travel on the books. Lastly, we'll resend you a confirmed and finalised itinerary once this has been done.
We can only guarantee any quoted rates and availability if you have paid a deposit and received your confirmed itinerary.
The remaining balance is due 90 days before you travel. Please read full details on our Terms & Conditions or call us with any questions. It is important for clients to understand, we do not make a profit until they travel. See the breakdown below of how this works.
How We Make Profits
In the past, the travel industry has been a closed book when it comes to profit. Unfortunately, this has created confusion due to the lack of transparency and the variety of ways in which a travel business generates returns.
We can't speak to other companies' profit models, each is unique. We do encourage potential travellers to ask questions and understand where a travel business profits are coming from.
Our business model is straight forward. We earn a small percentage fee, or sometimes a flat fee, on flight components. On ground arrangements and cruises, we earn the difference between our negotiated wholesale rates and the consumer direct rates offered by companies to the public. Importantly, this means you are paying the same price. See Cost of Using Travel Specialist vs Booking Direct for more clarity.
This is a simplified explanation of what that means for you.
Cost of using Travel Specialist vs Booking Direct
This is one of the most common topics of discussion with potential travellers – and understandably so! Everyone deserves to know the costs associated with a specific service before committing to purchase something.
There is no simple answer. Depending on the itinerary, using a Travel Agent could be cheaper, it could cost the exact same amount, or it could be more expensive than booking all of the components directly.
If a client is considering just a single component, like an Antarctica or Amazon Cruise, a stay at a luxury Patagonian lodge or an Easter Island retreat – we guarantee the exact same pricing that you would receive if booking directly with the product itself. To understand this, see How We Make Profits above.
For a traveller looking to explore multiple Latin American countries with many flights and activities, we can often offer a cheaper price by accessing a wholesale air-pass that is unavailable to the general public.
In tours that involve multiple private airport and overland transfers, many private tours and activities, the total may be slightly higher than if you were to organise a local taxi at every arrival, set up each individual component yourself and manage payments to each service individually. However, this is not a true like for like comparison as our bookings also include 24 hour local ground support.
If you fall ill and need to go to hospital, or step off the kerb and sprain an ankle, having a person there to help manage this, is a massive benefit as many of our clients have found.
'While touring Machu Picchu my wife suffered from dehydration and had to have emergency medical treatment. The personal guide, Jonathan, and the whole Peru team were extremely helpful in organising medical care and post emergency treatment. Mary and I are extremely grateful to all of them for their devotion, personal attention and care. They were just wonderful not only in this situation but throughout our travels through Latin America.'

-Jacob & Mary Fonseca
None of scenarios above account for the amount of money – and potential stress – we will save you by making sure the components of your trip are all quality experiences.
How We Remove Potential Bias From Higher Commission Products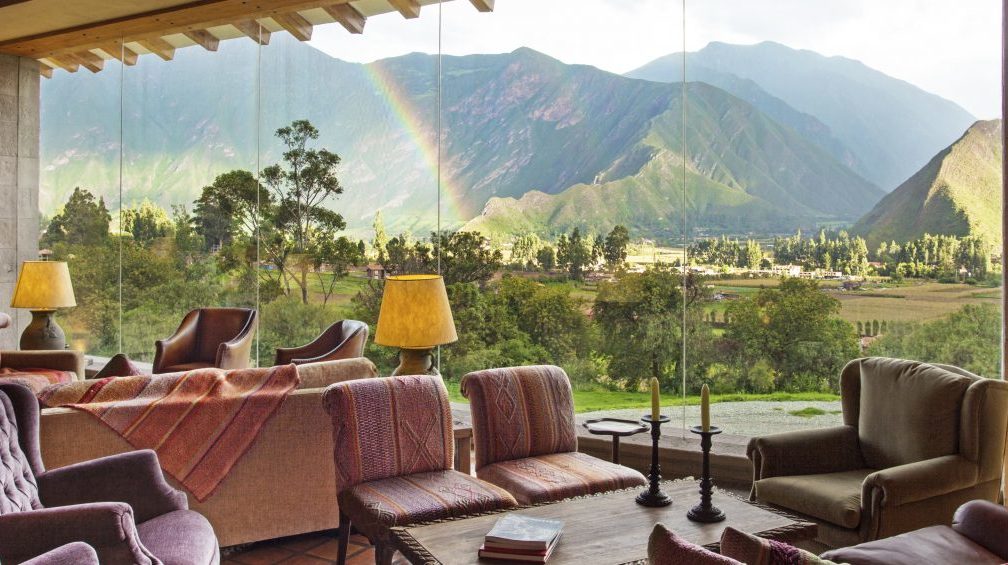 We often have clients ask about any bias towards specific products that pay us higher commission. The truthful answer is an emphatic NO.
Your itinerary is tailored to the experience you want, not the experience we want you to have.
Our business is built almost entirely on repeat travellers, client referrals and trust. In order for our business model to succeed, we need to ensure clients receive great value from our service and only recommend and use trusted, quality products independent of commission.
A repeat trip or personal referral is worth so much more to us than a few percentage points of extra commission!
Country Ground Partners & Outsourcing Activities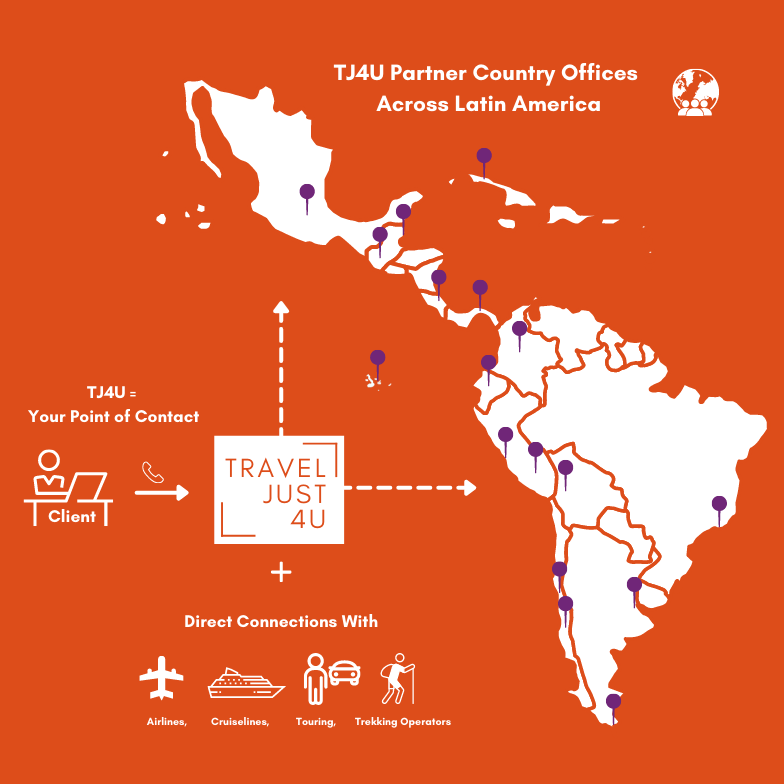 One of the biggest benefits of booking with Travel Just 4U is our direct connection to ground partners across Latin America. We are your single point of contact for all of your booking arrangements meaning you communicate with just one person. Travel Just 4U in turn works across our network of local ground offices, Australian and internationally based airlines, cruise lines, speciality touring and trekking operators etc. to organise all the components of your trip.
In each country around the world that we operate, we rely on local Destination Management Companies that serve as our operations and logistics teams on the ground. The majority of these companies are family run and have had long term partnerships with Travel Just 4U. When you book with us, they are the team providing the actual service on the ground.
They are considered Wholesale Receptive Tourism Operators and they do not offer services directly to travellers. They only provide services to specialists like Travel Just 4U around the world. This means that even if you wanted to organise travel directly with them, it isn't possible.
They are our eyes and ears in each country and let us know when a new food tour through a local market has started, or when a new eco-lodge is being opened. They inspect properties throughout the country, manage the guides and drivers we hire, and take care of ticketing for attractions and experiences like hiking the Inca Trail or exploring the Galapagos.
Importantly, our partner country offices are your 24 hour on the ground contact should you need them while travelling. This means if you have an emergency, you are speaking with someone in the same country as you that can assist. The knowledge that someone locally will look after you if necessary takes away any apprehension, worry or stress our travellers may have.
Quote Breakdowns Explained
When you request a quote from Travel Just 4U, you will receive a price for flights, a package price for the ground arrangements, and if applicable, a separate price for your Antarctica, Amazon, Galapagos or Patagonia Cruise as well. You will not receive an itemised price for each transfer, tour, hotel night etc. There are two main reasons for this.
Firstly, many ground partners are contractually prohibited from sharing their wholesale rates for specific components – particularly hotel rates, as they can be lower than the retail rate advertised directly on hotel websites.

Secondly, when we book tours, transfers and hotels as a package – it comes at a discounted rate. If we remove segments of the package, this conversely can increase the individual price for other components.
For example let's say we book a transfer, tour and hotel – the package price from our partner comes to $200. We estimate the transfer component is $40, tour is $60 and accommodation is $100. If we remove the transfer, the tour component might become $70 and the accommodation becomes $110 for a total of $180. So over the course of multiple days in a destination – clients receive significant discounts when we book it as a package. It also means we can't provide an exact itemised breakdown for each component.
Covid-19 Client Communication
Covid-19 has had a devastating impact on the physical, mental and economic health of so many. When the crisis first began in early 2020, we were unable to see the long term effects of what this particular coronavirus would bring.
Travel Just 4U has always worked with a small number of clients. This meant we were in the fortunate position to speak with every single client either by phone or with individual emails within the first few days of Covid-19 becoming a full crisis.
Most of our travellers that were overseas early on in the year still enjoyed their trips and avoided flight cancellations. We repatriated our last traveller safely home from Chile in late March.
At the start, we advised clients we were unsure where things were headed and that we would wait and monitor the situation, depending on when travel was booked. We reached out with regular calls and updates for each individual bookings and had re-booked all of our travellers within a few short weeks.
Communication has continued with the opening of international borders from Australia still in limbo. We are currently advising clients that 2022 will be the most likely return to safe travel for South America.
Covid-19 Client Impact
A handful of our clients did loose a portion of their money due to Covid-19 Cancellations. It was a very small minority of bookings but it was nonetheless extremely distressing for impacted clients, and ourselves as an agency. In some cases, funds were returned but still resulted in a loss after transferring back via two currency changes and international wire transfer fees.
As explained in some of the questions above, cruise and other specialty components like trains or unique lodges require larger deposits up front. Many of those companies, sticking to their strict terms and conditions, have not allowed for refunds. Similarly, airlines were changing their policies almost daily on which dates and cancellations they would provide a credit or voucher towards.
The vast majority of Travel Just 4U clients did not loose any money and were able to adjust their bookings as needed.
Covid-19 Booking Terms & Conditions
In light of the continually changing travel restrictions domestically in Australia and internationally, we have adjusted our booking terms and conditions via renegotiations with all of our suppliers. See the complete details here.
These terms apply to all future bookings and are still subject to individual components (ie cruises or lodges) additional booking policies.
Cancellation due to Government Covid-19 Restrictions
If travel cancellation is due to government Covid-19 travel restrictions, the following conditions will apply:
More than 90 days before departure – full deposit refund, flights subject to airline refund policy
89 to 30 days before departure – 50% cash refund, 50% in a travel credit, flights subject to airline refund policy
Within 30 days of departure – 100% of total trip value in a travel credit, flights subject to airline refund policy
Please ensure that you have read the specific terms and conditions of your airfare. Special cancellation charges which may be higher than those listed above apply to cruises (including Antarctica, Patagonian Fjords, Galapagos Islands, Amazon River), rail holidays, specialty accommodation and special event holidays. These additional charges are set by our suppliers and vary per supplier. Please check with your consultant at the time of booking.